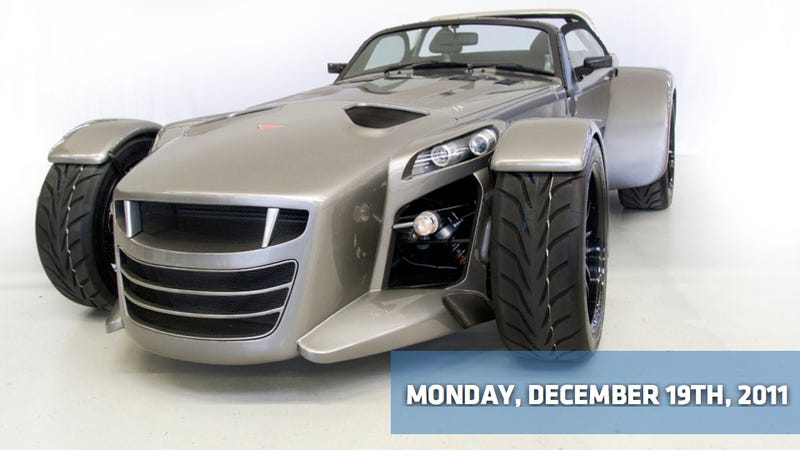 This is the Morning Shift, our one-stop daily roundup of all the auto news that's actually important — all in one place at 9:00 AM. Or, you could spend all day waiting for other sites to parcel it out to you one story at a time. Isn't your time more important?
---
1st Gear: Saab Files For Bankruptcy
Saab Automobile filed for bankruptcy this morning, bringing the Swedish carmaker to the brink of shuttering its doors for good after failing to find investors to rescue the 74-year-old company. Saab, the automaker once born from jets, and based in the southwestern town of Trollhättan, submitted its application with a district court, Victor Muller, chief executive officer of parent company Swedish Automobile NV, said today to Bloomberg in a text message. Saab Automobile had been in discussions with Zhejiang Youngman Lotus Automobile and a Chinese bank to secure about 600 million euros ($782 million) in loans, but General Motors said Dec. 17th it couldn't support proposed alternatives for Saab because the options "are not meaningfully different" from previous suggestions the Detroit-based carmaker had rejected on the grounds they would hurt the U.S. company.
---
2nd Gear: American Taxpayers WIll Lose $14 Billion On Auto Bailouts
Ex-auto czar Stevie "Wonder" Rattner told the Detroit Economic Club on Friday that American taxpayers will lose about $14 billion on its $82 billion investment to restructure General Motors, Chrysler and Ally Financial. "It's unambiguous that it was a success," said Rattner. Fast action was essential to save at least 500,000 jobs at stake when suppliers, dealerships and other vendors were included, he said. Whether the $14 billion loss is accurate will depend on when and at what price the U.S. Treasury sells the about 25% stake it still holds in GM. But that's not looking too good with GM stock closing Friday at $20.15, 39% below the $33 at which the company went public in November 2010. Additionally, Rattner acknowledged in a recently published epilogue to his 2010 book, Overhaul, that about $19.4 billion that the government put into GM before the 2009 bankruptcy is "lost money."
---
3rd Gear: GM CEO Dan Akerson Learns All About Trucks
It's sort of weird to me that Dan Akerson, General Motors' CEO told the Detroit Free Press he was "...really amazed when gas spiked earlier this year and then it dropped 15 cents, and our pickup sales picked right back up." I would kind of hope that the CEO of the largest automaker in the world might have a better understanding of why the drop in the price of gas, no matter how minor a blip, would psychologically affect the sales numbers of pickup trucks. Does this mean I should be CEO of GM? Nah, but it might make one wonder about Akerson as CEO of GM. I mean, have you seen its stock price?
---
4th Gear: 2013 Chevrolet Sonic RS Is A Tater Tot With A Stick
This is the 2013 Chevrolet Sonic RS, revealed just a wee bit before its official unveiling at next month's Detroit Auto Show. At launch, it'll be only available in hatchback form and will sport a turbocharged 138 HP 1.4-liter Ecotec engine under the hood. That itty-bitty powerplant's mated to either a six-speed manual with a unique gear ratio or a six-speed auto tranny with a special "Buttermore" final gear ratio to give the Sonic RS a "sportier feel" than the non-RS models of Chevy's "new" tater tot. Also, you know, four-wheel disc brakes. How about that, eh?
---
5th Gear: The 911-Fighting Alfa Romeo 4C Will Look Exactly Like The Concept
Top Gear's Paul Horrell has an update on the Alfa Romeo 4C — the sexy little Italian thing we first saw at last year's Geneva Motor Show. He's learned that Alfa engineers are confident of getting the first prototype on the road for the middle of 2012, with the final car on sale a year after that and they're still aiming for under $70,000 in the UK. Also, whatever the changes they make to materials and build methods, the car's chief engineer says the 4C will look almost exactly like the concept. The man in charge also says it will get from 0-62mph in 4.5 seconds. Hot.