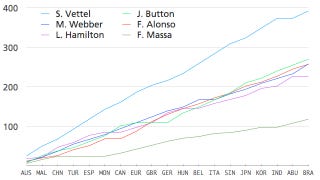 Here's the points chart for the recently concluded Formula One season, total points plotted against Grands Prix. If you'll ignore the uncanny performance of a certain blond German kid, it was a pretty close fight…for second place.
The chart tells many stories. One is the inevitability of a championship if you add modern reliability to the pairing of a great driver and a great car. There were 19 races this year: Sebastian Vettel, Mark Webber and Fernando Alonso retired from one each, Jenson Button retired twice, and the constant minor accidents between Lewis Hamilton and Felipe Massa were only good enough for three retirements each for the pair of them. Contrast this with, say, Mario Andretti in the Lotus 79 in 1978, another great combination of car and driver resulting in a dominant championship year: four retirements out of sixteen races. Or Michael Schumacher in the Benetton B195 in 1995: four out of seventeen.
What this means for the course of a season is, unfortunately, a high probability for no real title fight. If one driver can launch his campaign like Vettel launched his this year, and show in the first few flyaway races that his car is both fast and reliable, he will not lose. Vettel's championship was basically a given after the Turkish Grand Prix, with 15 races left on the calendar.