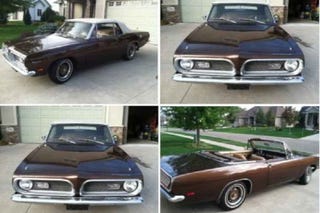 Barracuda by Heart is a staple of classic rock stations across America. Pony cars are another staple of American culture, and today's Nice Price or Crack Pipe Plymouth Barracuda is one rare classic. Its price however may not get your rocks off.
Back in the day, when a sitcom would take on a serious topic, such as a main character confronting eating disorders, domestic abuse, or liberal political views, the promos would often describe it as a very special episode. It would be a learning experience for all involved,with much furrowed brows, and the next week everything would get back to comedy normality.
Yesterday 's NPOCP episode featured a very John Player Special Lotus Exige and while you didn't have to deal with any untoward adversity, you did have to come to terms with its price, which a whopping 75% of you found to be nice. Next week, Willis brings home a stray cat.