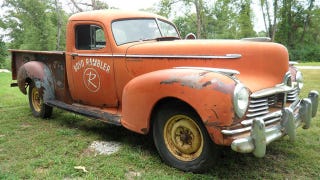 Although it's generally accepted the Ranchero was the first of the car/trucks, Hudson produced a more utility based truck using the front sheet metal from their cars in the late 1940s. The result was a unique mixture of car and truck that predated the Ranchero by 11 years. This very original example of a rare Hudson truck is currently on Ebay.
It might be a little rough, but this Hudson truck is still in good enough condition to be the coolest and rarest truck almost anywhere you take it—that is of course once you replace the clutch and tires. Beyond that according to the seller this truck needs nothing to be driven. Underneath the long hood is the stock 262 Inline six in good running condition. The 262 might not make the truck a "hot rod" as the seller claims, but it definitely adds to the Hudson's cool factor.
You can tell from the doors of this truck it was once used by a Rambler dealership for parts duty. Whether this truck gets restored or not, we sincerely hope this super cool dealership signage stays on the doors of this interesting truck in some form. Ever since I came across a well restored Hudson truck this summer at the Owls Head Transportation Museum car auction, I've had these strange trucks on the brain. This one is a little rough and rusty, but for my purposes it would be a perfect parts hauler/cruiser.