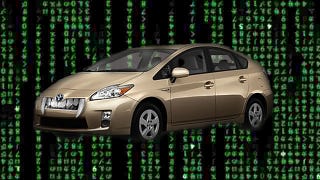 According to a report by U.S. computer security software-maker McAfee, increasingly computer-dependent cars could soon become a hacker target. But software-selling fear-mongering only masks the real threat: It's you.
The report, released last night entitled "Caution: Malware Ahead (PDF)," warned security is lagging as vehicles are increasingly enhanced with embedded chips.
"As more and more functions get embedded in the digital technology of automobiles, the threat of attack and malicious manipulation increases," said McAfee senior vice president and general manager Stuart McClure.
"It's one thing to have your email or laptop compromised, but having your car hacked could translate to dire risks to your personal safety," he added.
Yes, and I can't imagine why a company that makes security software would have a vested interest in pushing out a report designed to scare people into believing their cars will be the target of vicious hackers. Oh wait, yes I can — to sell software to them. And don't get me wrong, we're victims of that fear too. We've run stories like "How Hackers can use smart keys to steal cars" and on CarShark Software.