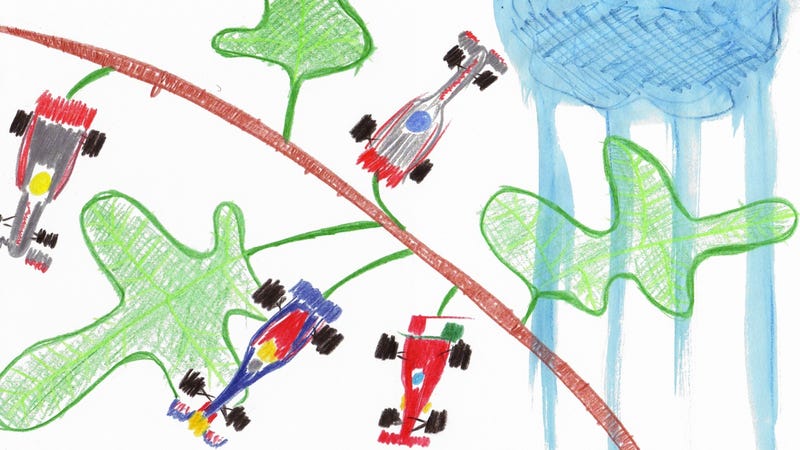 There really is nothing like the glory of changing weather conditions for sprinkling fairy dust on a Grand Prix. A shot of rain on a cool day was enough to turn the tedium of the Hungaroring into a sparkling race to remember. It also didn't hurt to have the sultan of capricious weather on the grid, hungry for a win. Warning: spoilers.
It has taken me years of living in Budapest to realize that the Common Fig (Ficus carica) can not only survive but actually bear fruit in this city, which is farther north than Duluth, Minnesota. While the radically different orographies of Europe and North America may make such comparisons moot, I still find it remarkable that a tree so Mediterranean in character can flourish halfway to Scandinavia. In fact, certain specimens planted on the sunny southwestern faces of Budapest's western hills bear fruit as early as mid-July.
What is good, however, for the Hungarian fig harvest—long, dry, hot summers—is terrible for the Hungarian Grand Prix. The event is usually held at the end of July or early August, when the weather tends to reach for the triple digits of baking Continental hell with no chance of rain. Combine that with the Hungaroring, a track whose geographically inherent dustiness is compounded by the scarce use it sees apart from the Grand Prix weekend. This reduces the possible number of racing lines to one, and that on a twisty track with very few straights. This is how you end up with the typical Hungarian Grand Prix, a slow, boring procession with very few overtakes. The only high point tends to be the hopeless struggle of the British commentators trying to pronounce the names of the random Hungarian dignitaries giving out the awards at the end.
But the 2011 edition was not a typical Hungarian Grand Prix. Save for a few days of high heat in mid-July, it's been a cold, rainy summer here—so cold that I was actually eyeing a pair of heavy Harris Tweed trousers in my closet one morning, feeling completely ridiculous for doing so on a July day. As Formula One left the equally cold and rainy Nürburgring a week ago, the signs were pointing to a cold and rainy Hungarian Grand Prix, also known as Jenson Button weather, who took his first win at the 2006 Hungarian Grand Prix—Honda's last—in similar conditions.