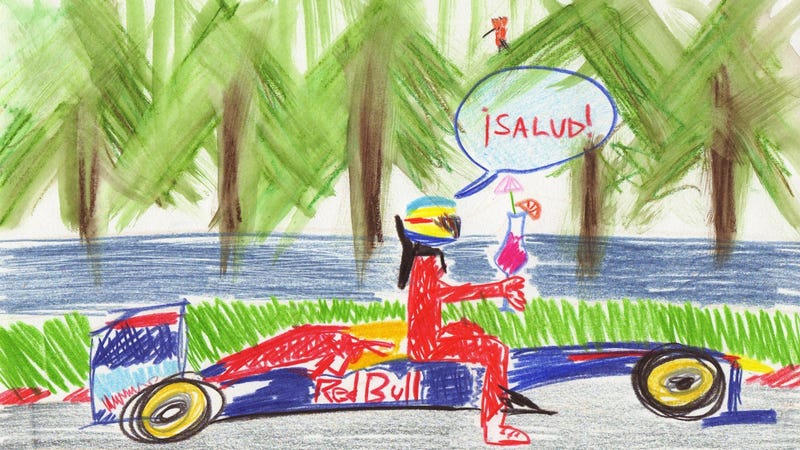 The homecoming for Germany's new world champion, joined by five other Germans in the splendid freezing German summer at the Nürburgring, against a depressed and disillusioned McLaren. What could possibly have gone wrong for Red Bull at the season's halfway point? Then again, motor racing has a way of being about as capricious as the weather in the Eifel Mountains. Warning: spoilers.
The 2010 Italian Grand Prix on September 12 was the last race Sebastian Vettel did not start from the front row. Strange and distant times, those. Monza was all about a resurgent Ferrari taking the fight to Mark Webber and Lewis Hamilton. Vettel, hampered by his inconsistency, was a distant fourth in the championship.
Times have certainly changed. In the five races that followed, Vettel beat his terrific rivals and won the world championship, then hit the ground running in 2011 with a nine-race streak during which he finished or qualified no worse than second. How strange and distant his surreal early season dominance seemed on Saturday afternoon, when qualifying was a fight between Mark Webber and Lewis Hamilton for pole, with Webber coming out 0.055 seconds ahead, relegating Vettel to third. Hamilton was positively buoyant.
The Formula One season is genuinely interesting again. It's no longer a case of Red Bull being in an entirely different league, like Brawn in the first half of 2009. The giant machines of

Ferrari and McLaren have caught up and, as if to prove the point, Lewis Hamilton raced Mark Webber off his pole position with such ferocity that he was leading the race by the second corner.
And Vettel was making mistakes! The most remarkable aspect of his performance this year so far was its tranquil perfection, very strange from a 23-year-old, his haphazard 2010 self seemingly gone. At the Nürburgring, he was an unhappy top-midfielder, never in contention for the podium, running wide, spinning out, and racing in a generally clumsy and very un-Vettel way.
This was Lewis Hamilton's race, and Lewis Hamilton ran a beautiful race. The 2011 German Grand Prix will never be a classic, it was a heavy tactical grind, but Hamilton's driving was of sizzling, spectacular beauty in the frigid German summer. When, on lap 34, he passed Fernando Alonso (left)—this time for the lead, instead of for third place—it was done in such a dominant manner that he left little doubt about who'd win.