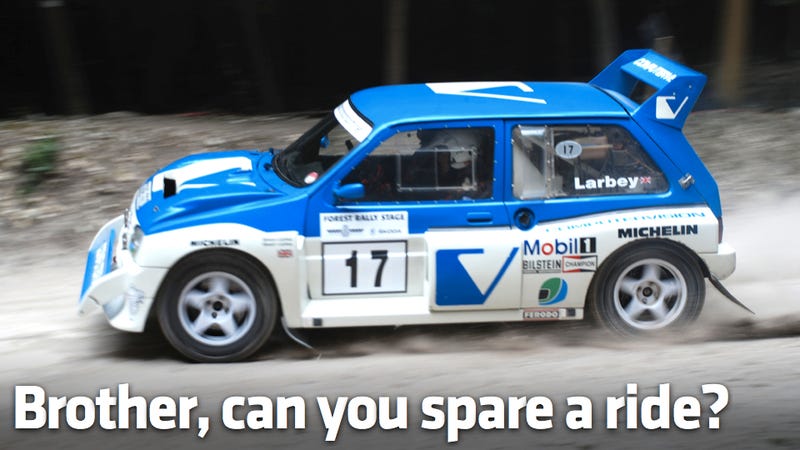 At the top of Goodwood is the rally paddock and a 2 minute, 20-second forest stage that I raced down in Ken Block's Ford Fiesta. It was awesome, but the moment I got out of Ken's car I ran straight to the Group B paddock and started begging for rides. I'm riding in a Group B if it's the last thing I do.
Well, actually I stopped at Kris Meeke's WRC Pro Drive Mini and tried to get in, but one of the engineers heard my story and then there was some talk about me being a rally driver in the states and that I had just got out of Ken's car… "Oh, I'm sorry but it looks we are full on passengers for the rest of the day…"
Sure. I think I would have been the first with a back-to-back comparison of the two WRC cars. Oh well. Maybe next time. David Richards are you there? I would like to drive your Prodrive Mini WRC car. Oh yeah, these are not the droids you are looking for… does this actually work?
So I run through the Group B paddock. First stop, Walter Rohrl's Audi S1 E2! Nope full. OK on to my favorite, a Lancia 037, the last of the big angry rear wheel drive monsters and this was one was in East African Safari trim!
No dice, the owner was on his way to the black tie dinner at Lord March's house. I asked Ray to get me a ticket or let me crash the party as I have my own tux from my previous life… but you can guess how that conversation went.
Next time I'll just bring an empty wine glass, the tux, and walk right in and ask for forgiveness later, not permission — I really wanted to tag the Lord's house with some Caswell stickers. So I have something to look forward to next year when I find a way to sneak my BMW rally car into the event. Can't be that hard if they actually make the movie about it? Right? Right.
Ok, where is that Ari Vatanen's Climb Dance Car that I sat in an hour ago, maybe I can go for a ride in that! It still has the tech sticker with Ari's signature on it. Nope, the forest stage is too rough and he's only running the hillclimb in it. Makes sense.
Oh yeah! A Ford RS200, my favorite! But this one is pristine and not being raced. But man is it cool. I was promised a ride in all these cars when I get back to England as they are pretty much all owned by the same guy, sort of a Superman of Group B. Anyway, I kept searching. A Stratos! It was full too.