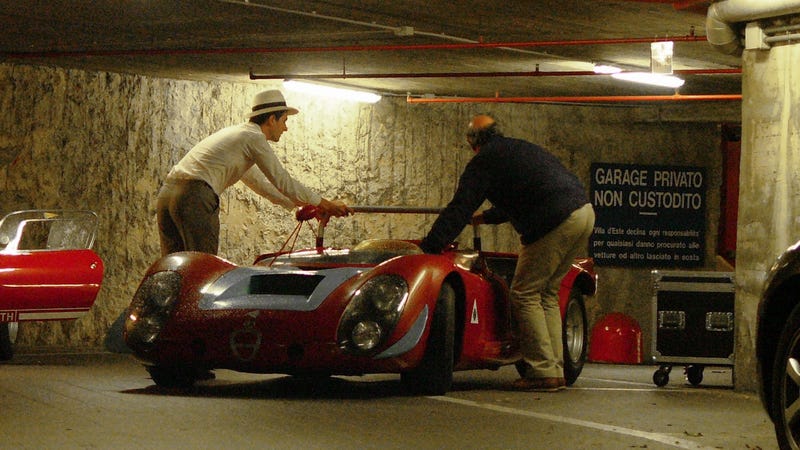 Connoisseurs of vintage Top Gear clips will know that parallel parking a big, mid-engined Italian supercar—say, a Lamborghini Countach—is a chore. The same cannot be said of big, mid-engined Italian race cars, like this Alfa Romeo 33/2. And when its owner was kind enough to accept a hand, Jalopnik was there to help.
Race cars may be big, but they are, ideally, light. The road-going Countach weighed around 3,200 pounds. The 1968 Alfa Romeo 33/2 is barely over a third of that, at 1,200. Which means that its flat red expanse is a cinch to maneuver in neutral, with the roll bar transforming the race car into a big, very expensive shopping cart.
One thing is, however, common between parking these two very different beasts: you will look silly while doing it. Be it Jeremy Clarkson hanging out of the Countach, the Alfa's owner Alessandro Carrara steering and pushing, or yours truly leaning on the roll bar in a white hat, silliness is practically guaranteed. Unless your name is Valentino Balboni. Who happens to be the only man who can give Steve McQueen a run for his money in looking cool under difficult circumstances.
There is, of course, more to the Alfa Romeo 33/2 than mundane parallel parking. Click through our gallery to read the history of this high-revving Targa Florio prototype.
Photos by Natalie Polgar and Peter Orosz.
The 33/2 was the second incarnation of the Tipo 33 family, Alfa Romeo's sports prototypes between 1967 and 1977. Built by Autodelta for the 1968 racing season, the 33/2 would form the basis of the Alfa Romeo 33 Stradale, that sinuous beauty of a supercar. This car, chassis #014, came third in the 1968 Targa Florio, driven by Lucien Bianchi and Mario Casoni. The sister 33/2 of Nanni Galli and Ignazio Giunti finished second and won the 2-liter class, three minutes behind the overall winner Porsche 907 of Vic Elford and Umberto Maglioli.