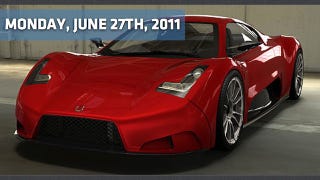 This is the Morning Shift, our one-stop daily roundup of all the auto news that's actually important — all in one place at 9:00 AM. Or, you could spend all day waiting for other sites to parcel it out to you one story at a time. Isn't your time more important?
---
1st Gear: The Obama administration is considering a fleetwide average of 56.2 miles per gallon for all new cars and trucks sold in the U.S. by 2025, two people briefed on the matter said. The proposal would roughly double current fuel-economy targets, and would likely raise the price of some cars by several thousand dollars. The Wall Street Journal says the proposal isn't final, and could be adjusted over the next several weeks as regulators prepare a formal draft to send to White House budget officials.
---
2nd Gear: As we've told you before, cars shouldn't be bought as an investment. But the New York Times is reporting that some are heeding Jalopnik advice we've already given twice in the past month — now is the time to sell your high fuel economy used car for a profit.