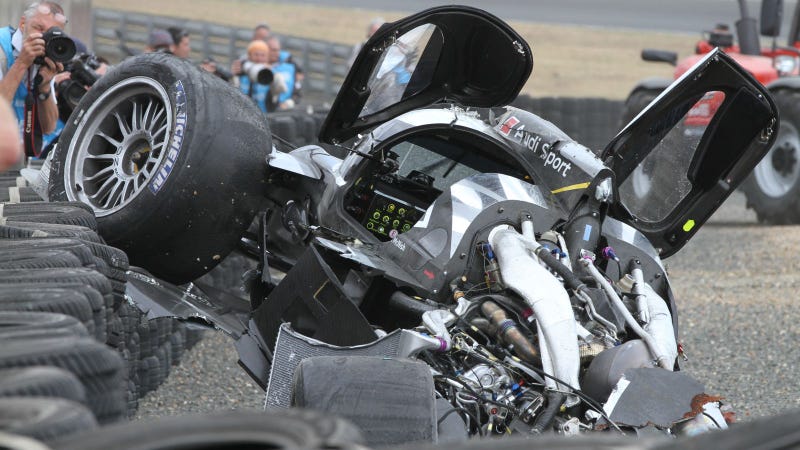 Dindo Capello's face turns from joyful to terrified. His friends are peppering him with questions, but his eyes are fixed on a video monitor, where a helicopter-borne camera is panning over the scene of an accident. Capello's trying to gain as much information as possible on the health of his friend and Audi teammate, Mike Rockenfeller.
Replay footage emerges on screen. It's the # 1 Audi R18 being clipped by a slower Ferrari GT car. The feed cuts to an on-board shot. The Ferrari didn't hold its line, cutting into the path of the R18, which rotates 360 degrees, shedding more than 100 mph before slamming head-on into the Armco. The video goes black.
It's approaching midnight and I'm sitting in the Audi Racing Arena just shy of pit entrance on the La Sarthe circuit here at the 2011 24 Hours of Le Mans race. I'm sorting through some photos I'd taken during the golden glow of sunset hours before. About ten feet away from me sits Capello, a three-time Le Mans winner. Earlier in the race, he and co-driver Tom Kristensen had been demoted from racecar gods to Audi spokesmen after Allan McNish, their third-in-seat, had survived a spectacular shunt just past the Dunlop Bridge, ending the trio's day in a DNF. Despite the outcome, Capello had been in good spirits afterward, sitting with friends and describing the joys of Le Mans.