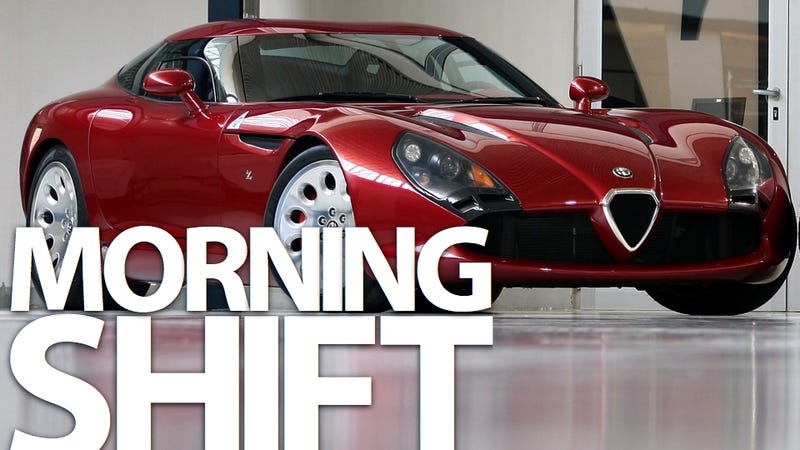 This is the Morning Shift, our one-stop daily roundup of all the auto news that's actually important — all in one place at 9:00 AM. Or, you could spend all day waiting for other sites to parse it out to you one story at a time. Isn't your time more important?
---
1st Gear: This beautiful slab of hot, spicy sex is the Zagato TZ3 Stradale, the fourth model in the Italian design house's TZ line. But this isn't just an all-Italian stallion. Underneath that gorgeous Kamm-tailed neo-classic carbon fiber skin beats an all-American heart. The TZ3 Stradale chassis comes straight from the Dodge Viper ACR and instead of the ACR's big V10 engine it's equipped with a more gentlemanly front-central-mounted 90° 4.2-liter V8 engine mated to a 6-speed sequential gearbox. That's because unlike the TZ3 Corsa which preceded it, the TZ3 Stradale is a design exercise and a tribute to Alfa Romeo and Zagato street legal vehicular heritage — not a race car. "Bellezza necessaria?" You betcha. Especially if you're one of the lucky nine that'll get one of these gorgeous Italian supermodels. Do want. Do want a lot. Do want with a side of fettuccine bolognese. Want a couple of high-res wallpaper-sized photos? We've got two on our Facebook page. Enjoy.
---
2nd Gear: Now let's go from Italy to Germany with the first shot of the new Mercedes-Benz C 63 AMG dressed up as the Safety Car for the 2011 DTM season. The new Safety Car will make its debut this weekend on May 1st at the opening race of the German Touring Car Masters season at the Hockenheimring in Baden-Württemberg.
---
3rd Gear: As expected — Chrysler just announced moments ago that it — and by "it," they mean "Chrysler Group LLC", the new automaker created post-bankruptcy — plans to repay "in full the outstanding obligations under the loans provided to Chrysler Group by the U.S. Department of the Treasury and the Canadian federal and Ontario governments. Chrysler Group intends to complete the repayment during the second quarter of 2011 from proceeds of a new term loan facility and newly issued debt securities." So, basically, they're going to pay back $6.6 billion in loans. Yay.
---
4th Gear: There's a lot of great product news today. Next up? Let's go back to Germany for a moment as Mercedes has updated the E63 AMG super sedan for 2011 with a range of minor tweaks, and one major one. Say goodbye to the 6.2-liter naturally-aspirated V8 engine which heralded the '63' badging, and hello to another downsized, forced-induction response to tightening emissions and economy requirements. The 2011 E63 receives the twin-turbo 5.5-liter V8 first seen in the S63 AMG, and now powering the CL63 and CLS63 as well. So, wait, does this mean that the Mercedes E63 AMG is actually an E55 AMG? Zoinks!
---
5th Gear: The MG 5 will join the Focus class before the end of this year in China before reaching the UK in mid-2013 and is designed to slot beneath the slightly larger MG 6 that has just gone on sale in the UK. By the time of its UK launch, its dynamics and some aspects of its design will have been reworked to suit European tastes. I have no idea what to think about that grille. What say you?
---
6th Gear: Ford said today it has found nonmetallic black and metallic red paints to replace colors that were not available due to Japan's devastating March 11th earthquake and tsunami. Finally, our long national nightmare is over.
---
Reverse:
⏎ Scott Burgess decides not to go all Chrysler 200 over the Nissan Juke. [Detroit News]
⏎ Visteon CEO's 2010 pay package totals $27 million. Must be a good life. [Automotive News]
⏎ Ford's selling more Ecoboost V6 engines in F-150s than expected. [Motor Trend]
⏎ The big three won't be heading to the Tokyo Motor Show... again. [Automotive News]
⏎ Remember, Treasury Secretary Geithner's touring the Jefferson North plant today. So Chrysler employees should remember to extinguish all joints before he arrives. [Detroit News]