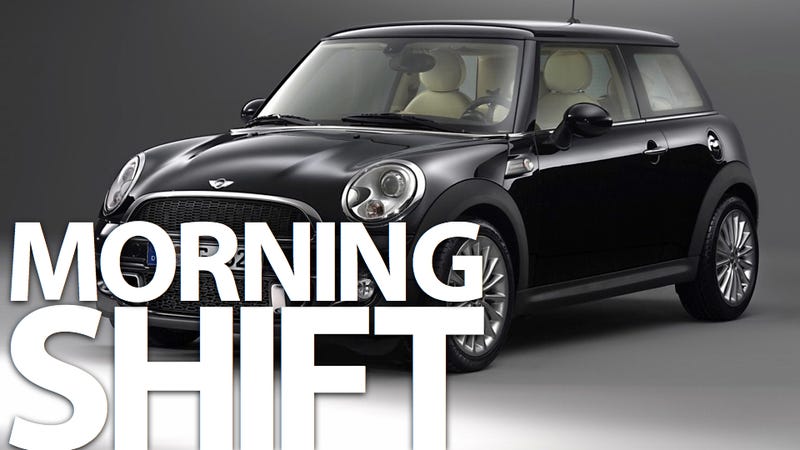 This is the Morning Shift, our one-stop daily roundup of all the auto news that's actually important — all in one place at 9:00 AM. Or, you could spend all day waiting for other sites to parse it out to you one story at a time. Isn't your time more important?
---
1st Gear: The "Rolls Royce" Mini inspired by Goodwood will be unveiled at the Shanghai motor show next week, and will go on sale in highly limited numbers of just 1000 available worldwide. The Goodwood Mini will be built using materials manufactured at the Rolls-Royce factory at Goodwood. It will feature an entirely overhauled interior with walnut wood used for surface finishes in a cabin coated with high-quality Rolls-Royce Cornsilk beige leather. The upper section of the instrument panel is also finished in black leather, while the dials and tachometer feature Rolls-Royce lettering. Outside, the Goodwood Mini gets unique 17-inch alloy wheels and the option of an exclusive Rolls-Royce black metallic paint finish, active Xenon headlights, parking sensors, climate control and upgraded Harman Kardon stereo. But don't expect it to get the V12 Rolls engine. Sadly, it'll just be the regular 179 bhp 1.6-liter gas engine under the hood. Still, I love the concept of it and can't wait to get behind the wheel.
---
2nd Gear: Chrysler Group LLC, the U.S. automaker operated by Fiat SpA, plans to start selling compressed natural gas-powered vehicles by 2017. "The technology is very actively being worked on," Bob Lee, Chrysler's vice president for engine and electrified propulsion systems, said yesterday in an interview in Detroit. Fiat, which owns 30% of Chrysler and plans to increase the holding to 51%, has engines using compressed natural gas in Europe. Chrysler executives have explored bringing that Fiat technology to the U.S.
---
3rd Gear: Lotus Cars, a unit of Malaysia's Proton Holdings, will sign a syndicated financing deal with six lenders on April 15, according to a media invitation. They are CIMB Group Holdings Bhd., Malayan Banking Bhd., Oversea-Chinese Banking Corp., EON Capital Bhd., Exim Bank and Affin Holdings Bhd., according to the e-mailed invitation received by Bloomberg today. Great, so Dany Bahar's crazy scheme will at least be well-funded.