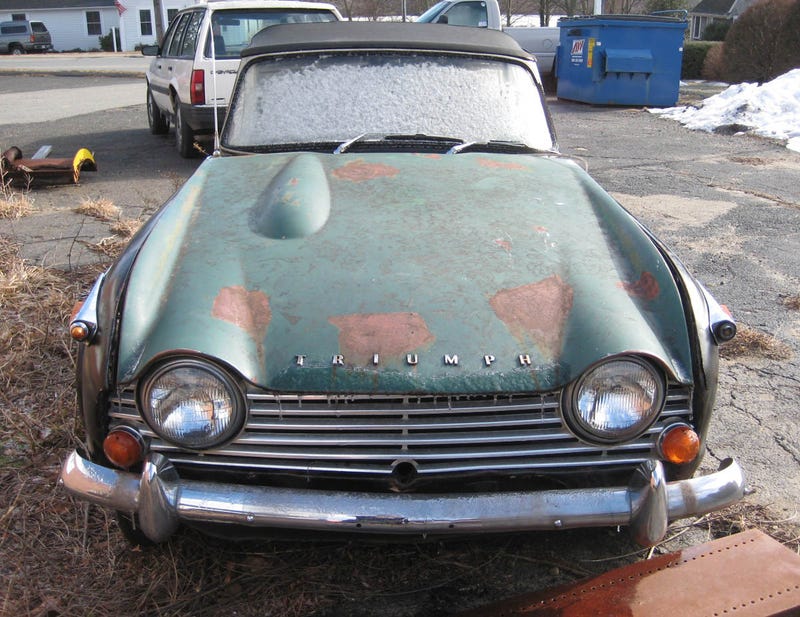 Welcome to Found Off The Street, our look at cars found on the cape that rust liked so much it decided to summer there; Cape Cod, MA. Today we have a 1965 Triumph TR4A.
Last week's 1970 International Scout 800A managed to defy its rust prone nature in a rust prone area. This week's 1965 Triumph TR4A was not so lucky. Years of salt air on the cape that rust remembered have taken a serious toll on this old British sports car. This TR4A's future is limited to sitting until perhaps someday it gives up parts of itself to bring another old Triumph back to life.

This TR4A is part of a series of Triumph sports cars that began with the introduction of the TR2 in 1953. 1981 was the last year of TR8 production, ending a 28 year run of TR sports cars. One of the many models produced between the first TR2 and the TR8 was the TR4A. Built between 1965 and 1967, the TR4A was a slightly updated version of the TR4. The primary difference between the TR4 and the TR4A was the optional Independent Rear Suspension. About ¾ of TR4A's were produced with the new IRS option while the rest retained the live rear axle previously used on the TR4s.