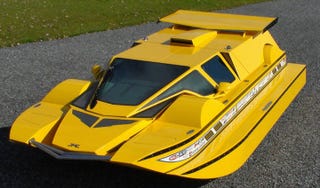 Have you always wanted a vehicle that can drive on both land and water? How about an amphibious car that needs a little testing and troubleshooting? If you're equal parts wealthy and crazy, the Dobbertin HydroCar could be for you.
Rick Dobbertin is well known for his imaginative projects. After constructing a pair of award winning hot rods in the 80s, he built the Dobbertin Surface Explorer, a 32 foot long amphibious vehicle constructed out of an old milk tanker.
Dobbertin took the Surface Explorer around the world logging 30,000 land miles and over 3,000 miles in the open ocean. Perhaps most importantly, the Surface Explorer was voted one of Jalopnik's 10 best Post Apocalyptic Survival Vehicles a couple years ago. Dobbertin nearly made it around the entire world with the Surface Explorer before financial problems brought him back to upstate New York.