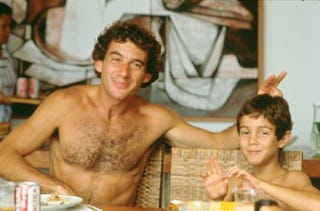 A few months before his death, Ayrton Senna remarked the now-famous line about his sister Viviane's 10-year-old son: "If you think I'm fast, just wait until you see my nephew Bruno." We've now seen him race. But have we really?
As far as I'm aware, Bruno Senna's first televised appearance was in the 1991 documentary Ayrton Senna: Racing Is In My Blood, in a scene where Ayrton Senna returns to Brazil after the Formula One season for some idle winter fun, and there's young Bruno at eight, operating the Senna family powerboat on a lake (at 05:25):
Life would soon deliver him a terrible pair of blows regarding the merits of going fast. Two years after a gruesome cascade of unlikely failures killed Ayrton Senna at Imola, Bruno's father Flávio died in a motorcycle accident.
Still he found his way to motorsports. In 2004, he drove Ayrton's old Lotus at Interlagos for show, then a succession of single seaters for real, progressing from Formula BMW through Formula Three to GP2, the latter usually the last step on one's way to Formula One. He finished the 2008 GP2 season, his second year in the series, in second position. Then came the strange inflection point of late 2008: the test at Honda F1 and the growing thunderheads of the global financial crisis which would tear through F1.
Unknown to all, Honda was on the verge of turning from an embarrassment into a runaway success with the first car designed under the leadership of ex-Ferrari alien brain Ross Brawn. Then, after Senna's very successful tests, Honda pulled the plug on its F1 program.
Team drivers Jenson Button and Rubens Barrichello, along with the entire operation, were out of a job until Brawn performed the unlikely shuffle of transferring the team
from Honda into his ownership, scoring a Mercedes customer engine, retaining a significant part of the team and his pair of experienced drivers, and suddenly Jenson Button was on pole in Australia, the BGP 001 was a riot, and Bruno Senna could only watch as the car that could have been his to drive ripped the field apart and claimed both championships, right there at Interlagos where he had gotten into Ayrton's Lotus five years before.