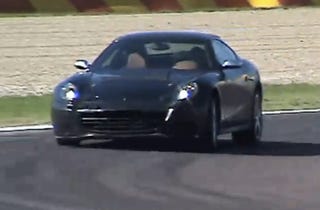 A 612 Scaglietti replacement will appear at the Geneva Motor Show in March. Members of the Ferrari elite have already seen the hyper-new GT, and they're impressed, despite it being the first Ferrari with all-wheel-drive. Here's what else we know.
Recently, Ferrari chairman Luca di Montezemolo said the company would introduce a "very different new Ferrari" at Geneva this year. It's already apparent how different the new Ferrari will be.
Ferrari's recently-leaked five-year Ferrari product plan tags the 612 Scaglietti replacement with the code name F151. The first rumors related to that code, percolating back in 2008, hinted at an SUV. We know now those rumorists were thrown by talk of a differential under the front wheels. Yes, the F151 car will get Ferrari's long-awaited, performance-oriented all-wheel-drive gear. According to reports, the electronically controlled, "insertable" system employs a second clutch to engage the front wheels when the driving-wheels slip (i.e., when the rotational speeds of the front and rear wheels don't match). Because the system will only engage on an as-needed basis—unlike Lamborghini's full-time gear—it'll mean less overall drivetrain loss. Insiders say the system can only engage in short bursts at high speeds (over 90 mph), a function of the differential's fixed ratios on both crankshaft and driving-wheels sides.