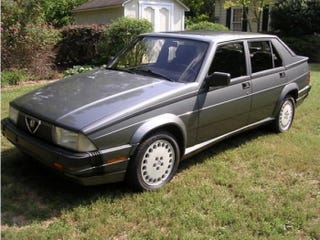 Alfa Romeo's Milano is like the homely guy/girl who, contrastingly, really knows how to rock your planet. This Nice Price or Crack Pipe Verde represents the hottest U.S. iteration of the fugly sedan, but is its price unattractive as well?
When on the road, there are tons of places to grab a quick burger, but most people go with Mickey Dee's. Movie prostitutes could have any personality imaginable, but they are invariably written as having hearts of gold. And while you could pretend spend your dollars on any of the panoply of automotive treasures and travesties we have here, it always comes back to how much Miata you could buy for the given amount. That's why yesterday's kinda' pricy 2004 Mazdaspeed MX-5 presented such a conundrum, and caused some of you to have a V'ger-like meltdown over the car- error, error, error. Those of you not too overcome with conflict to vote did so with a near equal split down middle of the Nice Price or Crack Pipe ass crack. In the end, with 51.34% of the vote, the Crack won, as it often does. Haters.
I predict less inner conflict today.
It's a funny thing about Italian cars- the coupes are usually molto bella while their four door siblings couldn't get arrested in this town. For example, we recently had a Fiat 130 Coupe here, and it was all kinds of hot, like Jessica Biel in Pirellis. In contrast, the platform-sharing 130 sedan was like driving around in Bea Arthur. These days, the lines between coupes and sedans are blurred and Alfa Romeo has been at the forefront in the building of four-door cars that are just as beautiful as their two-door brethren. But that wasn't always the case.