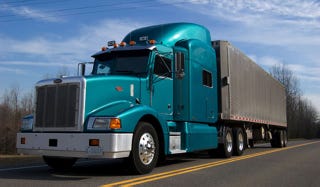 Nondescript 18-wheelers are secretly transporting nearly 1,000 of the U.S. Navy's 100-kiloton W76 nuclear warheads from a submarine base near Seattle to a plant in Texas. Worse news? It's by an agency recently investigated for problems with alcohol abuse.
An item in Washington's Kitsap Sun this weekend confirms something we all expect to be true but is rarely talked about: the transportation of nuclear weapons across the United States.
The quantity of nuclear warheads is astounding, with the report indicating as many as 1,000 of the approximately 30-year-old 100-kiloton W76 warheads are being transported from Naval Base Kitsap-Bangor near Seattle to the Pantex Plant in Amarillo, Texas, nearly 1,800 miles away, for updates that'll extend the life of the weapon by 30 years.
The W76 wahreads, currently used as the main warhead for the Trident 1 and Trident II Submarine-launched missiles, are designed to create a fireball more than half-a-mile in diameter if exploded.
Transportation of these items will be carried out by the Department of Energy's National Nuclear Security Administration (NNSA) Office of Secure Transportation. Convoys of escorted and unmarked nuke trucks like the ones pictured above will carry them on their journey.