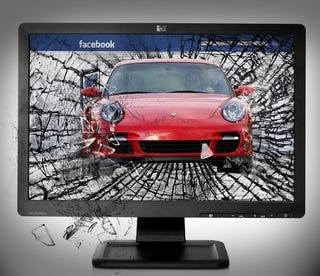 Porsche, fearing industrial espionage, has banned their 13,000 employees worldwide from accessing Facebook and other social networks while at work. That's just stupid.
Rainer Bennett, Porsche's head of group security, told German business magazine Wirtschaftswoche the automaker has a longstanding policy of banning social media networks at work, but not because they found them to be a huge waste of time or a distraction. They're afraid employees will share corporate information and allow access to important company financial data or details on upcoming models and strategies. Although, when asked, a Porsche spokesperson told us there's never been a specific case of that happening.
This isn't just an example of how strict and amusingly German Porsche is, it's also proof of how little their corporate security team understands these social networks. Here's why:
The Ban Only Extends To Corporate Workstations In Europe
The company is unable, though not necessarily unwilling, to ban the use of Facebook or other social networks at home. This means any of Porsche's 13,000 employees (according to the company, approximately 3,250 Porsche employees are currently Facebook users) can still spill their secret corporate data as soon as they leave the office.
They're also able to access Facebook, Twitter, car forums and other social media networks from their phones, just like 150 million active users already do. So really, they can also do it while they're sitting at their desk.
They're Targeting The Wrong Porsche Employees
When the Porsche Speedster information leaked early, it wasn't from someone inside at Porsche, it was from a dealership employee. That person was promptly fired.