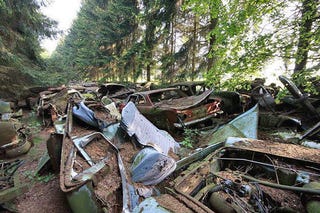 Hundreds of abandoned classic cars grow like trees in a misty Scandinavian forest that looks like it's straight out of a fairy tale. Here's how, with some U.S. Army help, 200 cars found their way into this forest to die.
Europe seems full of abandoned car yards. Magical spots where someone rolled or parked old vehicles either for salvage, storage, or parts. Over time the yards become abandoned and forests overtook them. Now, once in a great while, they pop up to be discovered.
Most famously in recent years was the Historischer Autofriedhof Gürbetal, a Swiss junkyard of epic proportions, unearthed two years ago, untouched and full of automotive treasure. Unfortunately, as soon as the authorities found it, the cars were evicted and what couldn't be sold was crushed.