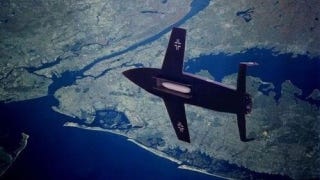 V-2's falling on London were just the beginning. Had the Nazis had their way, Mach 22 bombers would have devastated America from space. The scary thing? The concept was not entirely insane. This is the story of Eugen Sänger's Silbervogel.
Nazi Germany may have lost the war but certainly not for lack of engineering genius. The sheer amount of advanced weaponry and concepts dreamed up during the Thousand-Year Reich's 12 years in business continues to baffle the mind. 800 mm artillery pieces? Check. The world's first jet fighter, cruise missile, and sub-orbital ballistic missile? Check, check, and check.
On the other hand, look what America did: it focused most of its efforts on a single advanced weapon, moving well beyond the concept stage. But the audacity of the German weapon concepts still fascinates, rather like their very successful 1930s Grand Prix cars. And the more feasible of them did eventually become products, as a search for Saturn V will show.
The most breathtaking concept was Eugen Sänger's Silbervogel ("Silver Bird"). It was a design study commissioned by the Air Ministry for a problem Hermann Göring had spotted, namely that Germany's most powerful future enemy happened to be
defended by the mother of all moats: the Atlantic Ocean. The ministry launched an initiative by the name of Amerika Bomber and Germany's crew of evil geniuses set to work.
Most of the concepts presented to the ministry were upscaled conventional bombers, but not Sänger's bird, not that. Sänger was a member of the rocket society Verein für Raumschiffahrt—like rocket car designer Max Valier and most of the people who would later run NASA and build America's rockets—and his eyes were set on sub-orbital space, as outlined in his 1933 book Raketenflugtechnik ("Technology of Rocket Flight"). For the Air Ministry's project, he expanded it in 1944 with his future wife Irene Bredt under the name Über einen Raketenantrieb für Fernbomber ("A Rocket Drive for Long-Range Bombers").