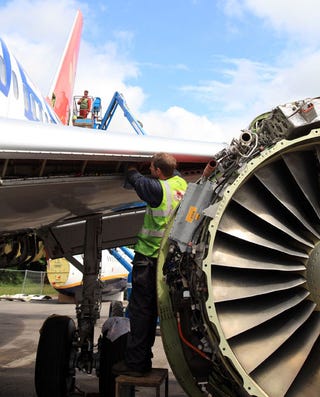 A recycled jetliner produces tons of metal and millions of dollars in parts, but a mistake could cost hundreds of lives. Here's how the company that salvaged the plane from Lost does its destructive business.
A car's typically just parted out once and then scrapped at the end of its life, but a jumbo jet is full of thousands of valuable parts that will be salvaged or recycled numerous times. One passenger plane may transition into service transporting packages, or off to commercial service in Africa, and then the fuselage used for training purposes.
Approximately 450 large aircraft are completely scrapped and disassembled each year, according to the Aircraft Fleet Recycling Association, with another 5,900 passenger jets to be recycled by 2028 according to Boeing. Given the high prices for parts, dangerous materials, and the risk involved in recycling airplane parts it's not a job for any dismantling yard.
"In short, it's not like the auto [recycling] business," says aviation archeologist and plane recycling expert Doug Scroggins, who was responsible for recycling the airliner that's the centerpiece for ABC's Lost and serves as managing director for ARC Aeropsace Industries. "If you sell an engine off an aircraft and it crashes, you're going to be spending a great deal of time in jail."
Click "next" to go through the process of recycling an aircraft, or go here to see this in one long post.