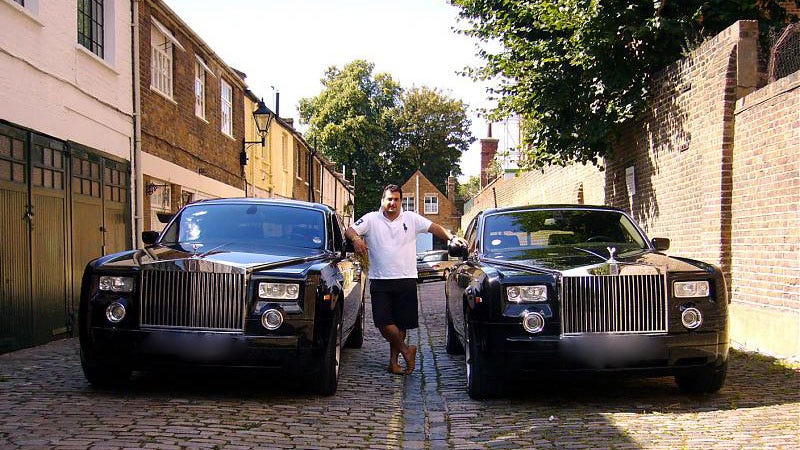 Accused International crime-kingpin Alexander Surin's new nickname is "Don Car-leone" after his arrest included the seizure of millions of dollars in exotic cars. That nickname's different than his secret forum screenname we found flaunting his automotive collecting prowess. UPDATE.
Surin was arrested by Spanish authorities and extradited to France in September, leading authorities to seize the following vehicles from Switzerland and the United Kingdom. These vehicles represent what they now believe is only part of his amazing collection:
Bugatti Veyron (x2): $1,680,000 ($3,360,000)
Enzo Ferrari (x2): $613,000 ($1,226,000)
Rolls-Royce Phantom Drophead Coupé: $491,000
Rolls-Royce Phantom: $421,500
Ferrari 599 GTB: $318,000
Ferrari California: $220,000
Porsche 911 GT3: $125,000
The collection inspired one Interpol source to tell The Sun:"It's absolutely incredible. Never mind the Godfather's Don Corleone - he is Don Car-leone."
One would expect a lifestyle like Alexander Surin's to stand out. But despite jet-setting around Europe for his "business," which, according to European police, most certainly included organized crime and drug-running, and amassing a collection of some of the most expensive exotic cars in the world, Surin supposedly lived a very quiet public life. Police claim he drove a "humble banger" around England rather than one of his fleet of exotic cars and never flaunted his amazing ill-gotten wealth.
That's because Surin kept his love of exotic cars hidden from the real world. Instead he chose to freely flaunt it in the digital world.
In 2006, Surin created an anonymous account on the Ferrari Chat (membership required) forum, a semi-exclusive online automotive lounge for owners and lovers of the famed Italian marque. It was there where he posted under the name "Icemanbops," a hilarious screen name given "iceman" is a slang term for a cocaine dealer. The "Bops" part is because this Alexander Surin may be Michael Boparan, a trader busted in a major customs sting in 2003 whose conviction was overturned due to a mistake on the part of the prosecution. He previously served time for masterminding an extensive identity theft ring in 1995.
There are accounts under the same name on the Pistonheads forum and on Benzworld, where he talks about his SLR Roadster and refers to himself as a "Pharma Manufacturer."
Considering the secrecy with which he lived his life — police say he stashed more than $1.1 million in cash in the cars they found — the details he shared online — photos, and information about his Ferraris and about future Ferrari products — is astonishing.
It's clear in the many posts we examined on FerrariChat that Surin was seeking praise for his generosity (buying cars for his brother and wife) and also the acknowledgment of his amazing collection he couldn't get in the real world.
Most of the other forum members gave Surin platitudes:
"Congrats!! I enjoy all of your threads. Please continue to post photos of your great collection. Most of us could only dream of living the great life that you are. :)"
What a life indeed.
in hindsight, some of the comments Surin posted on the forum are extremely appropriate, including an acknowledgment of the best way to do business with a dealer:
In Europe its really a matter of getting to know your local dealer and getting a order placed.

They will always take an order with deposit, its just a matter of then opening up a dialogue to ensure you get yours as quickly as possible and then not flipping it. Once you have one on ordered and delivered the next one is much easier.
He was also incredibly well-connected with the Ferrari establishment, sharing information about the Ferrari 599 GTO, which debuted this last week in China, way back in February 2009: