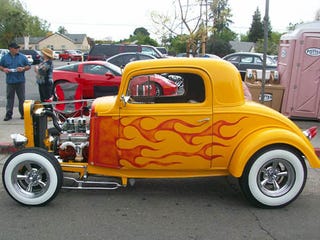 What better way to kill a Sunday afternoon than to get out of the house (blatantly ignoring the honey-do list) and head out to a local hot rod show?
No hot rod show would be complete without a car that reminded us in some way of Milner's Coupe from George Lucas's best film ever, American Graffiti— sorry, Star Wars nerds.
This Anglia had just the right amount of bad paint to give it some real attitude. It also had enough power combined with a short wheelbase to kill you in 4.6 seconds. Even more reason to love it.
I never grow tired of flat black paint. And on this Caddy it looks serious bad. This was the car I really wanted to drive away from the show in. It wasn't for sale, not that it would have made a difference— I barely had enough money in my pocket for the seven-dollar drafts.