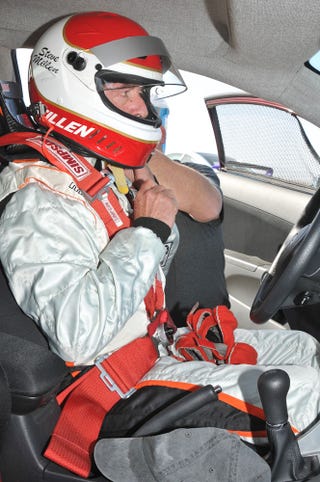 Before Steve Millen, winner of the 1994 24 Hours of Daytona, could compete in this weekend's Toyota Pro/Celebrity Race, he had to attend a beginner's driving school. Here's a first-hand account he wrote exclusively for us. —Ed.
Earlier this year, I was invited to compete in this year's Toyota Long Beach Grand Prix Pro/Celebrity race. It's a tremendous honor, and I am excited to participate. In order to be eligible to race, Toyota told me that I would need to attend racing school. I started laughing and asked when I should show up for practice. I've never been to a driving school before and I've been racing for nearly 40 years — I didn't think they were serious.
Turns out they require all competitors to participate in a mandatory driving school at Willow Springs Raceway prior to the event. I figured it would be a great opportunity to learn how to drive the Scion TC — the car used in the school and the race — to its full potential, and to relearn momentum driving. Prior to heading out to Willow Springs, I reviewed the list of entrants. As usual, the other pros are great drivers: Indy-Car champion Jimmy Vasser and drift champion/rally driver/Hollywood stuntman Tanner Foust. I was excited to get out on the track with these guys and see what would unfold. This is what I learned.
If you'd like to read Steve's piece on a single page, free of our gallery layout, click here.