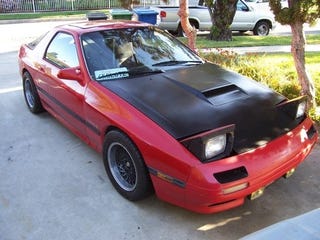 Some have accused the second generation RX7 of being the softest of the breed. Of course, a monster V8, like today's Nice Price or Crack Pipe candidate has, can make it much harder. And, it might make you hard too.
To the tune of the Beverly Hillbillies Theme:
Come and listen to a story about a man named Clint 

Who tried to sell a Buick, and thought he'd make a mint

But then his ad showed up on the old Jalopnik

And his spelling and grammar made everybody sick

.

All-caps, that is, typing bold, grade three.


Well the next thing you know ol' Clint's got some frustration, 

Kinfolk said "Clint, you need to get some education" 

Said "You'll never sell that Reatta spelling rare like that"

But it was too late, he had 58% Crack.