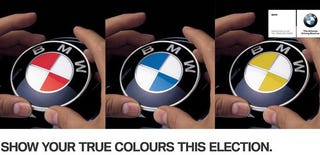 Automotive PR people use April 1st as an excuse to issue fake press releases and get revenge on journalists who do things like telling people to "point and laugh" at their cars. This is our guide to this year's goofiness.
BMW is having some fun at the expense of the British elections by offering their famous roundel in numerous politically motivated colors. Are you a blue roundel or a yellow one? A green one (stupid parliamentary government)? [NickBurcher]


Infiniti already has a number of questionable features on their new cars, including the "Forest Air" climate system. Is Gastronomi, a system that measures a driver's hunger to avoid the dangers of starvation driving, that unbelievable? It's almost as funny as the 2011 Infiniti QX. [Just-Auto]


The best joke from an automotive journalist is PickupTrucks.com's bit about the Ford Ranger's indefinite production extension. It's so funny it sounds true. And a Harley edition Ranger? Brilliant. [PickupTrucks.com]


Auto Windscreens is offering prescription windshields for the hard of sight. Kind of an old joke. [AutoWindscreens]


AA, the British version of AAA, lived up to their name and went a little overboard with their Jetpack Patrol jokes. There's so much effort put into this that we wonder what productivity is like in the AA press office. [TheAA]


Mini gets an award for the most successful prank with its announcement of color-changing paint (and not like a Mystic Cobra). They managed to nab USA Today, who quickly realized the error but was cool enough to keep the post up after discovering the truth. [Mini]


Subaru will teach your dog or cat how to drive! It's like Toonces, just not that funny. [WorldCarFans


The ALMS series is adding another manufacturer: DeLorean! We love DeLorean jokes. A Mr. Fusion is way better than KERS. [ALMS


Remember Wonder Woman's invisible plane ? There's now a Hot Wheels version. [Facebook]


Car and Driver says they aren't doing their famous April Fool's Day joke this year. Lies! We think the entire NY Auto Show is just one big C/D joke. A Mini SUV? An iPad-equipped Hyundai full-size luxury car? A Porsche hybrid racing car? Give us a break. Too hard to believe.