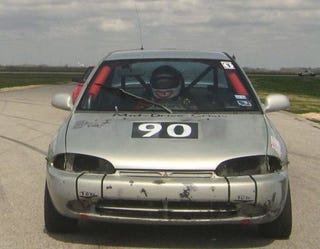 We've been led to believe that the driver's seat on street cars should be one side or the other, but why? Team Mid-Drive Crisis converted their LeMons Mirage to mid-drive, and we can see that the advantages outweigh the disadvantages.
With a front-wheel drive car that uses a cable-operated shifter, you've already got a flat floor and no weird shift linkage to build, so the conversion isn't quite as hellish as it might be. Team Mid-Drive Crisis did a very clean conversion, with slick quick-release steering wheel and everything.


I got into the driver's seat during the Gator-O-Rama 24 Hours of LeMons BS Inspection, and the improved perspective was amazing. That got me to thinking: wouldn't this be even better on a daily driver? Sure, you'd lose one passenger seat, but you'd be able to see and reach everything on the dash, you'd be better protected from T-bone wrecks, and you'd get true stereo from your sound system. You could even put a couple of skinny seats flanking your captain's chair and increase your passenger-hauling capacity, just like those crazy Frenchmen at Matra did.