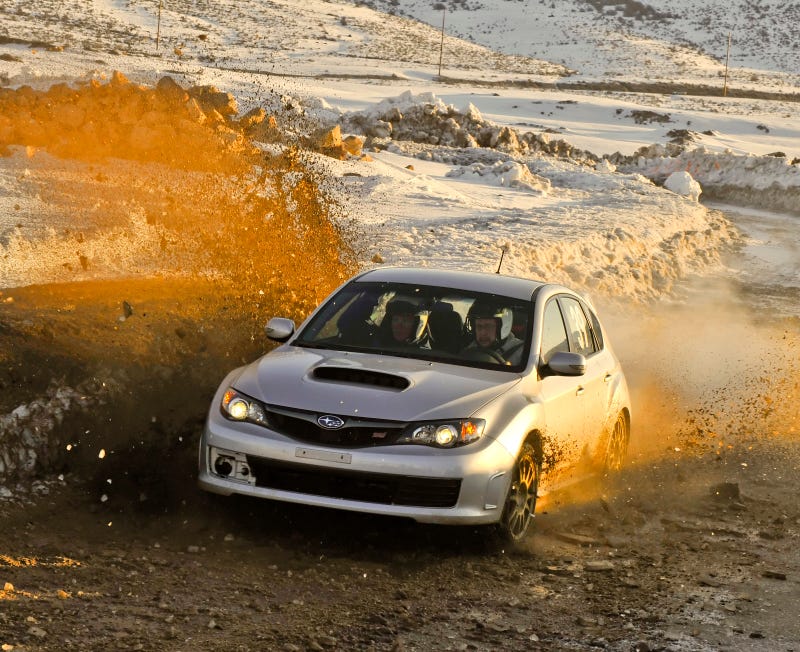 This is a Subaru STI. This is an ice-covered dirt track in the middle of Utah. And this is a man driving a car with a dab of oppo. This post? This is our guide to hooning a Subaru.
Full Disclosure: Subaru flew us to Park City, Utah and put us up in a ski resort so we could bring you this story. While we were there, we discovered that mud sticks to your teeth and that buffalo tastes like bison. (Or is that the other way around?) Also, after watching us drive, someone called us "hyphy." We have no idea what that means, but we can only presume that it, too, tastes like bison. Or buffalo. Or something.
What Was This? A one-day Subaru media event devoted to demonstrating the capabilities of the company's all-wheel-drive system.
Where Did it Go Down? A 0.5-mile ice track outside of Park City, Utah.
What Did You Do There? A Norwegian rally driver and former WRC competitor taught us the finer points of getting loose on ice and, once the ice melted, dirt.
What Did You Drive? An Impreza 2.5i, two WRXs, and one WRX STI. All of them wore studded snow tires.
We traveled to Utah to attend something called the Subaru Ice Capades, an event that, as one Subaru PR representative put it, is "where press cars go to die." It consisted of a frozen field, a 0.5-mile road course carved out of said field, a handful of new Subarus, and one rally instructor. We came, we saw, we climbed out of bed at five in the morning because someone held a classroom session the night before and used the phrase "you must always add more power."
Just for the record, we are fans of this sort of thing.
Because news-free events like this are often best recapped at a bar over drinks, we've decided to present our coverage in the form of anecdotes. Enjoy, but remember: Don't try this at home. Ahh, screw it. Go find someplace you won't get arrested and do this as much as you can. It's good for the soul.
Clutch Dump? What Clutch Dump?
Subaru brought former WRC competitor and one-time Skoda factory driver John Haugland to Utah for the express purpose of teaching the media how to drive sideways. He did that with aplomb. When I climbed into the car, he looked at me, asked me my name, and then told me to rev the car up to 5000 rpm and dump the clutch. We left the paddock in a spray of gravel, banging off the rev limiter while the tires hooked up, and doused the Port-A-Potty shed behind us with a shower of mud. Haugland just looked in the mirror and laughed. Then he told me to brake later and stop being such a girl.
"You are a bit sloppy, but you have very good car control, and you always save it and have no trouble." — John Haugland
In retrospect, the above statement is a metaphor for my entire life. I cannot decide if this is a good thing.
When I finished my run, everyone was laughing and asking why I went balls-out from the get-go. As it turns out, Haugland didn't give anyone else the clutch-dump instruction; he just thought I looked like a guy who needed a burnout. Rally drivers are fun people. Now I want to visit Norway.
That Differential Makes One Hell of a Difference
Most of our time at the event was spent in Imprezas and WRXs, but we were allowed a few laps in an STI toward the end of the day. A handful of things were readily apparent — the top-of-the-line WRX offers a lot more mechanical grip, damping refinement, and steering feel than its lesser brethren — but it was the adjustable center differential that truly stood out.
Simply put, the sucker just works. When you lock the diff, the STI turns in less readily on the power but launches itself out of corners as if hooked to God's own trebuchet. Unlock the diff, and the car rotates easier but slews and wanders from apex to corner exit. Scandanavian flicks — Ha! I just realized this! I Scandanavian flicked a car with an actual Scandanavian inside it! My life is complete! — are easier with the diff locked because you have more control over both the initial degree of yaw (the product of the "flick"), and because the extra traction helps you adjust the car's attitude while sideways.
"You must live with my English, which is Norwegian English, which is not very perfect. But have the guts to be on the power. The car will not work properly without it. Exit speed, power, exit speed, power!" — John Haugland
In short, like the amazing active rear differential in Mitsubishi's Evolution, I want to put one of these things in every machine I own. (Yes, even the appliances. Attention, brave little toaster: Oversteer my bagel! Go!)