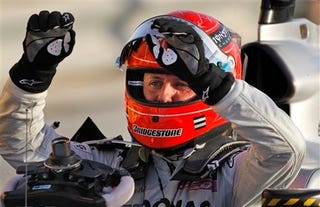 Michael Schumacher might want to watch that new red helmet of his. The last man to wear one in a Mercedes grand prix car, Manfred von Brauchitsch, was nicknamed Der Pechvogel: the unlucky bird.
"Helmet" may just be too strong a word for the thin cloth caps worn in the daredevil '30s, but the red part is true, even if it's hard to discern on black-and-white period photos. But the man who wore it said so in his autobiography, which I've read a few years ago. Fun book. Although he goes Commie at the end and defects to East Germany. Red Germany!
The man in question was Manfred von Brauchitsch, one of the racers who drove the original Silver Arrows: the supercharged, unpainted, pre-war Mercedes-Benz race cars, which dominated motor racing in their time. In fact, it was von Brauchitsch who gave them their inaugural win at their first race out, driving a screaming W25 to victory at the 1934 Eifelrennen.