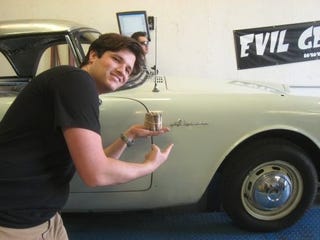 You hear a lot of guys bragging about their cars' mighty power output, claiming 500 horses at the wheels and so on, but how many actually roll up to a real-world dynamometer test? Armand did!
Armand drives a 1962 Sunbeam Alpine, which was rated at 80 net horsepower at the crank when new. It's- how shall we put this?- properly seasoned 48 years later. Armand has installed a Weber carburetor and done a bit of tuning, but how many ponies remain inside that 1600cc engine? Here we see the Alpine parked next to its distant corporate cousin.


Meanwhile, MG zealot and team captain of the Killer Bees, Pete, was talking pretty big about how the pushrod 1800 in his MGB LeMons racer (now recovered from its upside-down adventure at Thunderhill) should be able to smoke that off-brand so-called sports-car. After all, real British cars are built by a Labour government! That sounded like a good excuse for Evil Genius Racing to throw its First Annual Barbecue And Dyno Party a few weeks back.