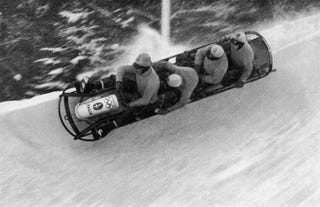 Motor racing in the 1930s was scary. Now remove the tires, add banked corners and ice, and you get bobsleighing. How scary can that be? Consider: contemporary racing drivers wore no helmets. Unlike bobsleighers.
The modern bobsleigh is quite a wonder. One hundred and fifty years after its invention by mischievous British aristocrats in the Swiss resort town of St Moritz, it is a fantastically aerodynamic shape honed in wind tunnels, used by two- and four-man teams for high-speed gravity runs on ultra-smooth ice, attaining speeds of over 100 MPH.
For most of the roughly 90-seconds runs on the 1300–1400-yard tracks, a bobsleigher cannot see a single thing, hunkered down inside the sled, where she is subjected to several g's of acceleration in the banked corners.
Whistler Sliding Centre, the ice track used at the Vancouver Winter Olympics, got off to a foreboding start when the Georgian luger Nodar Kumaritashvili was killed a day before the opening ceremonies. It is a fast track, built mostly for the very elite of the sport, and it has seen numerous crashes over the past two weeks of competition. No further deaths, but a number of minor injuries.