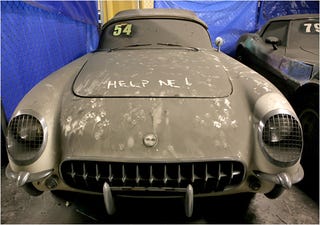 In 1989, VH1 gave away 36 vintage Corvettes in a contest. The winner sold those cars to artist Peter Max, who let them rot in a Brooklyn parking garage for twenty years. The cars recently disappeared. This is their story.
Thanks to the smart work of Daniel McDermon over at the New York Times, we're finally piecing together a story that we had heard snippets of for years but never nailed down.
In 1988, VH1 was struggling for ratings. As part of a publicity stunt, the music video network spent a truckload of money on 36 vintage Corvettes. The cars were given away in a telephone sweepstakes the next year, and one winner walked off with the complete set.
The contest was the brainchild of freelance TV producer Jim Cahill. VH1 charged him with the task of raising the network's national profile and attracting the then-vibrant baby-boomer demographic. He came up with the idea — give away one car from every year of the Corvette's three-and-a-half-decade history — while sitting on the freeway in Los Angeles.
What followed was a buying spree of epic proportions. Over the course of several months in 1988, Cahill spent $610,000 — roughly $1.1 million when adjusted for inflation — of VH1's money on what must have seemed like the automotive purchasing orgy of a lifetime. According to a period article in Vette magazine, the 36 cars that he bought were "drivers," not "Bloomington cars." Fourteen were convertibles, and 25 of the 36 contained automatic transmissions (eww). Cahill shepherded the cars from commercial shoot to commercial shoot, kept them fastidiously clean, and generally went to town with the whole mess. He also did what any of us would do — he drove one home each night for 36 nights. (He has since noted that, although some of the cars were healthy and drove well, many of them were nightmarishly bad.)
To facilitate the contest and help recoup some of the investment, VH1 set up a 900 number that charged two dollars per call. Prospective entrants called the number to register, and AT&T gave the network $1.49 from every call. 190,000 people called in the first day, 1.3 million registered in total, and VH1 made its money back in less than two weeks. Amazingly, the contest was won by Dennis Amadeo, a carpenter from Long Island who entered only once. He flew to California and was given the five-pound bag of keys by ex-Beach Boy Mike Love in a ceremony in Culver City.
This is where it gets weird.
Enter Peter Max. Max, a Manhattan-dwelling American graphic artist responsible for a large part of the 1960s pyschedelic design movement, was, and is not, a car guy. He gained fame for his "Cosmic '60s" style and use of vibrant color, and while he has painted everything from a Boeing 777 to Dale Earnhardt's NASCAR Monte Carlo, he isn't the type of celebrity to have a Lenoesque garage full of automotive weirdness.