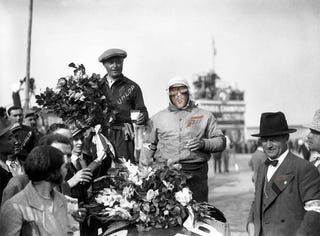 The light on the horizon grows dim, and Judgment Day is at hand: Voting for the Jalopnik Forza Motorsport Downloadable Car Pack is almost over. One more vote takes place today. Here are Wednesday's champions.
Yesterday was the third and penultimate day of voting for Jalopnik's community-voted car pack. It was not an easy day. The introduction of the Commenter Golden Ticket pleased some and offended many, and the voting ranks grew restless. Cars like the Volvo 242 Homologation and the Mitsubishi Starion were given a temporary reprieve from the heartless justice that is the online poll. A lot of weird juju came and went. And we started an IV drip of caffiene and 90-weight in order to keep from going temporarily mad. (Or is that to stay mad? Details, details.)
Nevertheless, we soldier on. Today is the final day of voting, and one more poll takes place at noon EST. This is the big one, and it's set to be nothing less than a massive, heartless slaughter. Five Golden Ticket cars will be introduced with today's vote, but there will be no more second chances. Tomorrow, we wrap things up, pick up the pieces, and tell you how it all shook out.
As our Forza time draws to a close, we have but one word of benediction. Carry this statement into battle, and when you find yourself growing weak with indecision, fall into its loving, supportive arms:
Thundercougarfalconbird, my friends. Thundercougarfalconbird.
Housekeeping: As we mentioned earlier, wallpapers will be offered for the art in this series of posts, so just hold your horses. All votes were counted by a tame, intelligent wildcat that lives in Sam's closet and subsists on the blood of the innocent. Your mileage may vary. In the names of Rosche, Chapman, Goosen, and Gurney, I offer this blessing: Go forth and get funky.
Round Two, Group I
1. 1973 BMW 2002 Turbo, 5009
2. 1971 De Tomaso Pantera, 4702
3. 1982 Lancia 037 Stradale, 4600
4. 1974 Ford Escort RS1600, 4321
5. 1988 Pontiac Fiero GT, 4187
6. 1982 DeLorean DMC-12, 4168
7. 1999 BMW M5, 4081
8. 1960 Aston Martin DB4 Zagato, 3970
9. 1998 Aston Martin V8 Vantage V600, 3857
10. 1980 Lotus Esprit 2.2, 3759

The Also-Rans
1977 Mazda RX-3SP, 3571
1965 Fiat Abarth 1000 TCR (Commenter Golden Ticket), 3500
1969 Chevrolet Nova SS (Commenter Golden Ticket), 3500
1968 Alfa Romeo 33 Stradale, 3436
1995 Volvo T5-R, 3406
1987 BMW M5, 3306
1996 Audi RS2 Avant, 3233
1980 Mercedes-Benz 450 SLC AMG Group 2, 3088
1998 Alfa Romeo 155 GTA, 3051
1992 Jaguar XJR-15, 3032
1978 Ford Mustang King Cobra (Commenter Golden Ticket), 2855
1972 Mercedes-Benz 300 SEL 6.3 (Commenter Golden Ticket), 2838
1989 Toyota MR2 SC, 2726
1997 Honda Civic Type R, 2640
1970 Mercury Cougar Eliminator (Commenter Golden Ticket), 2587
Round Two, Group II
1. 1992 GMC Syclone, 4051
2. 1977 Aston Martin V8 Vantage, 3973
3. 1994 Porsche 928 GTS, 3942
4. 1970 Ferrari 365 GTB/4 Daytona, 3828
5. 1984 Peugeot 205 Turbo 16, 3593
6. 1969 Pontiac GTO Judge, 3564
7. 1993 GMC Typhoon (Commenter Golden Ticket), 3430
8. 1984 BMW M635CSi, 3394
9. 1996 Subaru Impreza WRX Type R STi, 3372
10. 1981 Volkswagen Scirocco S, 3358
The Also-Rans
1966 Jaguar XJ13, 3311
1988 Nissan GTS-R R31, 3209
1984 Mazda RX-7 GSL-SE, 3200
1988 Mitsubishi Starion ESI-R (Commenter Golden Ticket), 3171
1970 Alfa Romeo Montreal, 3152
1973 Ford Falcon GT XB, 3134
1959 BMW 507, 3095
1999 Lotus Elise Sport 190, 3028
1971 Ford Mustang Mach 1, 2954
1965 MG MGB GT (Commenter Golden Ticket), 2821
1972 Ford Gran Torino Sport (Commenter Golden Ticket), 2785
1965 Pontiac GTO, 2758
1987 Chevrolet Monte Carlo SS (Commenter Golden Ticket), 2649
1970 Chevrolet Camaro Z28, 2631
Round Two, Group III
1. 1970 Datsun 240Z, 5259
2. 1992 Ford Escort RS Cosworth, 5051
3. 1990 Toyota Celica GT-Four ST185, 4837
4. 1987 Ford Sierra Cosworth RS500, 4347
5. 1990 Mercedes-Benz 190E 2.5-16 Evo II, 4237
6. 1992 Nissan 240SX SE (Commenter Golden Ticket), 4204
7. 1955 Porsche 550A Spyder, 4153
8. 1986 Honda CRX Si, 4098
9. 1977 Saab 99 Turbo (Commenter Golden Ticket), 3985
10. 2002 BMW Z3 M Coupe, 3875

The Also-Rans
1959 Aston Martin DBR1, 3868
1960 Ferrari 250 GT SWB California Spyder, 3652
1970 Plymouth Hemi 'Cuda, 3527
1989 Ford Taurus SHO, 3482
1986 Dodge Shelby Omni GLHS (Commenter Golden Ticket), 3453
1965 Ford Mustang Coupe (Fastback), 3443
1983 Volvo 242 Group A Homologation (Commenter Golden Ticket), 3300
1956 Lotus Eleven, 3247
1995 BMW 850CSi, 3160
1971 De Tomaso Mangusta, 3154
2000 BMW Z8, 3012
1971 AMC Javelin AMX (Commenter Golden Ticket), 2963
1977 Pontiac Firebird Trans Am, 2657
1969 Pontiac Firebird Trans Am, 2541
1997 Ford Probe GTS, 2503