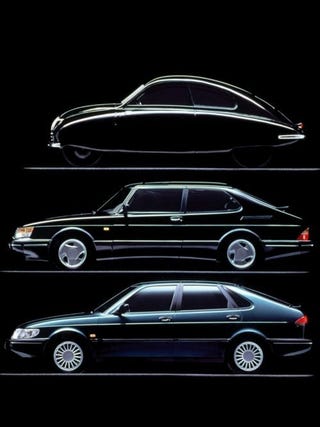 The long-negotiated deal between GM and Spyker has finally gone through; Saab will be sold to the Dutch supercar maker. Should Saab fans rejoice or worry that this is just another cruel twist in Saab's long, quirky road to børking?
According to The Wall Street Journal, Spyker will contribute $74 million in cash for the deal and the European Investment Bank will provide $556 million. GM will maintain about $326 million in shares, or 1% of voting rights.
This continues GM's attempt to focus on the four core brands — Chevy, Buick, GMC and Cadillac — that have maximum badge-engineering synergy potential. The Swedish brand has languished under GM ownership, losing much of its fabled quirkiness in the corporate drive to bean-count out character and replace it with vaguely Swedish-looking bodies sitting atop crappy mid-range Opels (GM's European badge-engineered brand).
So what value is left for Spyker? Other than a brand with a decades-old image problem and some mildly competitive platforms, it gets a factory in Tröllhattan that employs 3,500 Nordic superworkers, the brand-new (but GM-based) 2010 Saab 9-5 and, perhaps more tellingly, the $600 million in promised loans from the European Investment bank.