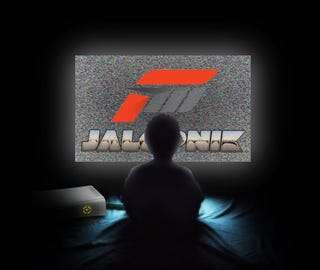 Microsoft's Turn 10 Studios, makers of Forza Motorsport 3, announced two new add-on car packs today. One will be chosen by the readers of the snarky and irreverent car blog Jalopnik. Hey, wait a second — that's us!
Three weeks ago, I talked about how Jalopnik plans to build the next generation of auto enthusiasts from video gamers and techies. Today, we proudly announce that we're taking the first step to pull car lovers out of the mud of mediocrity. Let's just call it a first-of-its-kind partnersynergasm: Jalopnik is teaming up with Microsoft's Turn 10 Studios, the developer of Forza Motorsport 3, to give the enthusiast community a chance to do something it's never done before — choose the cars that will show up in the video game.
To start, we've composed a list of 120 vehicles, a list that you, our readers, will winnow down to fifteen cars over the course of this week. Nine of those fifteen (the actual selection may vary, depending on availability of real-world car examples for Turn 10 to scan) will make it into a Jalopnik-branded download pack that will be released this summer. The tenth car was chosen by the Jalopnik staff, and we'll reveal it at the end of voting on Friday. Voting will occur in a series of posts scheduled to start today at 11 AM EST, and the list will be revealed as we go along.
That isn't the only XBox news 'round these parts: We're pleased as punch to announce that Forza's March downloadable car pack is so full of awesome, we're putting the Jalopnik seal of approval on it, too. More to come on that front over the next couple of weeks. In the meantime, here's the press release that just went out:
Forza Motorsport 3 and Jalopnik.com Give Racers & Tuners the Power to Vote on Upcoming Downloadable Car Pack

As the Forza Motorsport 3 fan base grows with every race, hot lap, livery design, tuning setup, and leaderboard post, developer Turn 10 is looking to its vibrant and active community of players, creators, and car lovers to help determine the content of a new vintage car pack set to release later this year.

Tapping into the largest audience of car fans possible, Turn 10 is partnering with Jalopnik.com, one of the world's largest automotive enthusiast communities, to bring two Jalopnik car packs to Forza Motorsport 3 over the course of 2010.

Starting today, fans will have the opportunity to visit Jalopnik.com to vote from a list of 120 of the world's most sought after icons and classic cars to come up with the ultimate shortlist of cars that will be featured in a downloadable car pack available later this year. These 120 cars were chosen with the help of Jalopnik editors based on community feedback, years of heated forum debates, and the opinions of blogosphere's most passionate auto aficionados. These are the truly iconic cars that hang as posters on bedroom walls, fill heads with words like "power," "prestige" and "panache," and are still lusted after, tuned and polished by car collectors across the world.

The voting will take place from Jan. 25-29, and the car pack will be released this summer. For the latest details on poll results as well as the community-driven pack's release, visit Jalopnik.com and Forzamotorsport.net.

In addition to the community-choice poll and summer car pack, Jalopnik will also be partnering with Turn 10 to release a brand new Jalopnik Car Pack in March. This pack will offer some of the most coveted 2009 and 2010 models, hand-picked by the editors at Jalopnik. Stay tuned to Jalopnik and Forzamotorsport.net for more details.

One partnership, two great car packs -– giving racing fans and the car community the opportunity to drive even more of their dreams –- only on Forza Motorsport 3 and Xbox 360.

#####

Forza Motorsport 3 is rated "E" for Everyone and is now available globally. For more information on the "Jalopnik Community Choice Car Pack" and voting, visit ForzaMotorsport.net
Forzalopnik: Round Two Polls