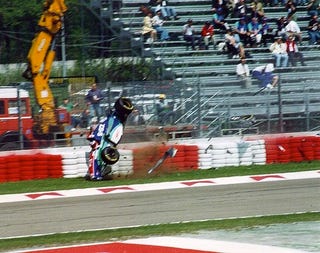 Jalopnik reader solracer was in attendance at the 1994 San Marino Grand Prix, the motor race which saw the deaths of Roland Ratzenberger and Ayrton Senna, along with a major accident which almost killed Rubens Barrichello.
Barrichello's accident, shown on solracer's photo above, happened during Friday qualifying. In Variante Bassa corner the young Brazilian hit a kerb at 180 MPH, which immediately smashed his Jordan into a tire wall with vicious force.
While he suffered nothing worse than a broken nose, the crash knocked him unconscious, then he swallowed his tongue as he lay upside-down—a condition which could easily have killed him in earlier times of molasses-slow emergency response teams.
He made a full recovery and is set to begin his 19th season of Formula One in less than two months. The only other driver from that race who is still active today is none other than the eventual winner, Michael Schumacher, who has returned to Formula One after a three-year sabbatical to drive for Mercedes Grand Prix.