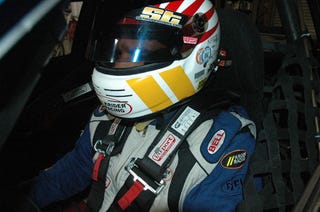 Your crappy 1977 Ford Pinto with the serious-looking six-point roll cage wants to race in the 24 Hours of LeMons and ChumpCar. Jalopnik is here to help you pass tech in each series.
With the 2010 crap car racing season almost upon us, racers have more choices than ever when deciding what do to with their $500 beaters. The 24 Hours of LeMons added a bunch of races to next year's roster, Chump Car World Series has an enormous schedule as well, and Crap Can Am is threatening to go to Mexico and Canada, eh.
What does this all mean for the ole Pinto? Well, you've got work to do. As much as LeMons and ChumpCar are similar, they each have their own tech inspection idiosyncrasies that, if not taken care of properly, will have you watching the race from the pits as opposed to through your windshield.
Here is a basic breakdown of the major differences between the two series, some updated rules for 2010, and how you can set your hooptie up to satisfy both houses.
ChumpCar requires a driver's window net, while LeMons allows- but does not require- nets. These nets are not expensive, but they are a major pain in the ass to install correctly (so that they will get out of the way quickly while you're on fire and trying to exit via the window). FYI, the nets don't work very well at the McDonald's drive-thru.
Car numbers are required by both sanctioning bodies to be black on white or white on black. LeMons says they need to be on both sides of the car (anywhere) and the roof or hood, ChumpCar says both "doors" and roof. So to keep your life simple, put the numbers on the doors and roof and you're good to go for both. If you need some numbers quick and cheap Figstone Graphics is doing a deal, two door panels and a roof panel with your team name or website on the sticker for $60. Not too shabby. No, the Shelby is not worth only $500.