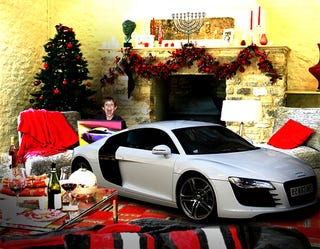 Parents of the world, pay attention: If you don't act soon, your child may not grow up to be a gearhead. Nip lameness in the bud! Get motor oil flowing in those veins! Buy one of these ten toys now!
Lego Ferrari F1 Pit
Five Lego men, a handful of tool bins, and an F1 car that fits inside of a truck. Next thing you know, little Timmy will have his Hot Wheels collection winning world championships. (Either that, or he'll be pimping his way around your basement like Flavio Briatore* on a Monaco Sunday. Neither is undesireable.)
Age: 8–14
Price: $79.99
[Lego]
*Yes, we know he's a Renault man, but sadly, Jean Todt doesn't date supermodels. You want your kid chasing uglies?
Hip T-Shirts They Won't Understand
Ancient references. In-crowd oil stains. Sure to prompt lots of questions. ("Daddy, what's 'HF' mean?" "That stands for 'High Fidelity,' son. That's the opposite of what daddy's ears do when mommy starts to talk.") Keeps 'em thinking, and normalizes the idea of four-wheeled weirdness.
Age: Irrelevant, so long as they fit in the shirt.
Price: $10 and up. (The Lancia Fulvia shirt at left is £19.35, or roughly $32.)
Hot Wheels Radar Gun
This fine piece of work is a marvel of packaging and down-to-a-price engineering. Yes, it's a real radar gun. Yes, it actually works. It reads both Hot-Wheels-scale (1:64) and real-world speed, and when it came out in 2007, it listed for just $20. It's no longer in production, but you can still find it on eBay and Amazon. Cheaper than most baseball guns and durable enough to be kid-friendly. A recipe for dangerous driveway speed experiments and thrill-seeking one-upmanship. Teaches the value of Band-Aids.
Age: Mattel says 7–12 years, but we call foul. Anyone, anywhere, and any age.
Price: $50 and up.
[Amazon]