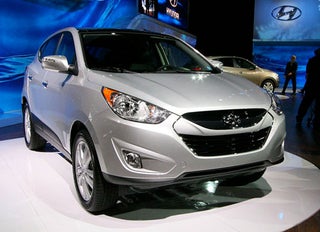 S
The 2010 Hyundai Tucson is an attempt for the brand to emerge from also-ran status in the compact SUV battle with flowing lines, better materials and more competitive equipment. Will it do the job? Well, maybe.

The new Tucson brings an entirely new design inside and out, boasting Hyundai's new "Fluidic Sculpture" design language. It's used to great effect on the Tucson, actually able to create a compact SUV one might call sleek. Unfortunately the nose of the trucklet is a bit on the ungainly side and takes away from the handsomely styled body.

Inside, things are basically okay, although the styling of the dash is a little weird. Front and rear passengers have more than ample room and the optional massive sunroof gives things a light and airy feel. There's plenty of gadgetry including a touch screen infotainment screen with satellite radio, Bluetooth and in-dash CD changer.


The Tucson launches with the same motivation you'll find under the hood of the 2011 Sonata, the Theta II 2.4-liter direct injection four cylinder and like the Sonata will be available with both an automatic and a manual transmission, which is becoming exceedingly rare in the segment. Fuel economy isn't too shabby either, with expected economy coming in at 23/31 MPG city/highway. Optional is a new all-wheel-drive system which includes Hill Decent Control and Hill Start Control for those trips down scary dirt roads just outside of town.
The Tucson rides on MacPherson strut front and multi-link rear suspension systems with col springs all around and bigger diameter but hollow anti-roll bars to save weight. Speaking of weight, despite being 3.3 inches longer and considerably better in every way than the outgoing model, the Tucson comes in at 61 lbs lighter, a trend we'd be happy to see adopted by everyone.
Speaking of everyone, Hyundai is right in being proud of their new model. It's a strong effort and puts a lot of the competition to shame. Conspicuously absent in all the comparisons though are GM's Chevy Equinox and GMC Terrain offerings, which have better interiors, higher fuel economy with optional V6's. So for consumers, the bottom line is the market just got more crowded with another worthy competitor added to the field, but for Hyundai, it's going to be a dog fight.
ALL-NEW TUCSON DELIVERS BETTER FUEL ECONOMY AND MORE POWER

Los Angeles, Dec. 3, 2009 – In 2010, a revolutionary new Tucson joins the rapidly evolving Hyundai product line. The sleek crossover from Hyundai, with its athletic European design, strikes a stark contrast from its predecessor and improves in every functional area, from its roomier cabin with extra cargo space to its leap in fuel economy and technology. Tucson features the company's "Fluidic Sculpture" design language and is the first vehicle in Hyundai's 24/7 version 2.0 product initiative (seven all-new models by the end of 2011).
The all-new Tucson is the first Hyundai CUV (Crossover Utility Vehicle) to be designed and engineered in Europe at Hyundai's Frankfurt-based design and technical centers. It features precedent-setting engineering including advanced weight saving technology and the eco-efficient Theta II 2.4-liter four-cylinder engine delivering up to 31 mpg on the highway. True to Hyundai form, the Tucson applies life-saving safety technologies as standard equipment while offering, for the first time, Downhill Brake Control (DBC) and Hillstart Assist Control (HAC). Likewise, to keep its passengers informed and comfortable Tucson integrates Hyundai's first panoramic sunroof, touch-screen navigation and a Bluetooth® hands-free phone system.

European Design

Key attributes of Hyundai's Fluidic Sculpture design philosophy are the athleticism and sophistication that Tucson demonstrates through its flowing lines, full surfaces and muscular presence. This athletic design language is highlighted by bold, dynamic graphic elements such as the new Hyundai family hexagonal front grille, aggressive lower air intake, sculptured hood creases, swept back headlights, sleek greenhouse and wraparound taillights. Chrome grille accents and door handles lend sophistication to the top-of-the-line Tucson Limited.
Conceived in a global collaboration among Hyundai's U.S., Korean and European advanced product groups, with design execution led by the Frankfurt studio, the new Tucson was developed as an urban cruiser. It is tough and compact for life in the city, yet sleek and agile for out-of-town travel.

The Tucson combines dynamic, sculpted, performance-oriented styling with thoughtful everyday utility to create a vehicle that will change the way consumers, especially younger car buyers, think about compact crossovers.
With an overall length of 173.2 inches, a width of 71.7 inches and a height of 66.3 inches (with roof rails), Tucson has a great stance and road presence. The design team fused a light, elegant and sporty upper body with belt lines flowing off both the front and rear wheel arches, to a tough, planted lower body so that it is assertive in the way it sits on the road.

The profile of Tucson features a sports car-like theme with a double-zigzag treatment for the wheel arches that wrap around the available Euroflange 18-inch alloy wheels. The concave sills have a wedge-shaped profile that extends rearward and wraps around into the rear bumper, a first of its kind design in a vehicle of this type. The profile is further enhanced by modern silver roof rails.

With high-mounted taillights, multi-surfaced glass and a sculpted bumper, the rear of Tucson also incorporates dynamic design elements.

2010 Tucson 61 Pounds lighter than the outgoing model despite being three inches longer
The 2010 Tucson is 3.3 inches longer and one inch wider than its predecessor, yet 61 pounds lighter
2010 Tucson has a longer wheelbase and overall width than CR-V, Escape and Forester to deliver more packing efficiency
Body stiffness is 38 percent greater than Rogue
World-class weight efficiency was one of the program targets for the Tucson engineering team. In fact, the 2010 Tucson leads all of its competitors in weight efficiency. Hyundai engineers also targeted leadership in power-to-weight ratio. Having these targets paid huge dividends in both performance and fuel economy.

The Tucson's widespread use of high-strength steel provides increased strength at a lower body weight. High-strength steel allows the four-wheel independent suspension to work optimally. At 3,203 pounds for an automatic transmission model, the Tucson is lighter than its competitors, while offering more interior room than Rogue and Escape, with body-bending rigidity 38 percent higher than the Rogue. The Tucson owes its 31 mpg estimated EPA highway rating to its weight efficient unibody architecture.

FUN-TO-DRIVE
The 2010 Tucson's athletic shape is now complemented with more agile handling, responsive steering and improved body roll control. These enhancements make the new Tucson more fun-to-drive. Tucson uses MacPherson strut front and multi-link rear suspension systems for more precise wheel control and a smoother ride. All four wheels are controlled by coil springs and fade-resistant gas-charged dampers. Stabilizer bar diameters have also increased. The front suspension now has a new 25 mm hollow stabilizer bar to save weight versus the predecessors 21 mm solid stabilizer bar. The rear suspension has a new 18 mm solid stabilizer bar versus the predecessors 14 mm stabilizer bar. Larger stabilizer bars keep the vehicle very flat during cornering and help provide quick turn-in response.
Rack-and-pinion Motor-Driven Power Steering (MDPS) also contributes to the Tucson's nimble and refined handling dynamics while saving fuel and reducing interior noise. The MDPS system uses the vehicle's electrical system for power (unlike the older hydraulic system), allowing for increased fuel economy and calibrated steering efforts through all vehicle speed ranges.
Due to the suspension geometry and wider track width that enables greater turn angles, Tucson's turning circle is 34.7 feet – an advantage Tucson drivers will appreciate in their daily driving and parking. In fact, Tucson's turning diameter bests Honda CR-V and Toyota RAV4.

TUCSON DELIVERS BETTER FUEL ECONOMY THAN CR-V
The Tucson was engineered to be more fuel efficient than its predecessor and chief competitors like the Honda CR-V and Toyota RAV4. The 2010 Tucson accomplishes this while being 3.3 inches longer and one inch wider than its predecessor and having a longer wheelbase than Honda CR-V, Ford Escape and Subaru Forester
Tucson features the Theta II 2.4-liter DOHC inline four-cylinder engine. The Theta II engine delivers about the same amount of power and acceleration as its predecessor's V6 engine with 20 percent better fuel economy than the old four-cylinder engine. In fact, the Tucson is more fuel-efficient than Honda CRV, Nissan Rogue, Toyota RAV4 and Ford Escape four-cylinder engines boasting an impressive estimated 23 mpg city/31 mpg highway fuel economy rating with the available six-speed automatic transmission with SHIFTRONIC® and front wheel drive. Tucson features low rolling resistance silica tires to contribute to the 31 mpg highway. With AWD (All-Wheel Drive), Tucson delivers an estimated 21 mpg city/28 mpg highway exceeding the primary competitors AWD versions including Subaru Forester.

The Theta II is rated at 176 horsepower (26 percent more than its predecessor) and 168 lb.-ft. of torque. This high-tech, all-aluminum, 16-valve engine features Continuously Variable Valve Timing (CVVT) on both camshafts and a Variable Induction System (VIS) for better engine breathing. In the green states, the 2010 Tucson is certified as a Partial Zero Emission Vehicle (PZEV) which means it is as clean as a hybrid.
S
For the 2011 model year, Hyundai will introduce a high-mileage Blue model. The Blue model will be powered by a Theta II 2.0-liter engine that delivers better power and fuel economy than the 2009 Tucson Beta four-cylinder engine. The 2.0-liter Theta-II has shed over 22 pounds from its previous iteration. For better fuel efficiency and reduced emissions, the 2.0-liter Theta-II also gets Dual CVVT (intake and exhaust camshaft phaser) while Theta-I was equipped with only CVVT on the intake camshaft. Major improvements also begin with the application of a two-stage Variable Intake System (VIS) which enables switching between long and short intake manifold resulting in an across-the-board performance increase. To reduce internal friction, engineers have applied a Diamond-Like-Coating (DLC) to the top surface of the valve tappets resulting in improved fuel efficiency. Engineers also expended considerable time and effort optimizing the oil pressure to achieve an ideal balance between durability and fuel economy.

Tucson will join the Blue lineup of vehicles that includes Accent and Elantra. Tucson Blue will deliver outstanding fuel economy without adding hundreds of dollars to the price. In fact, the "Blue" model will be priced lower than other Tucson models, assuring it will be both efficient and economical. Hyundai is focused on achieving an excellent mpg-per-dollar ratio with the Tucson Blue model. Fuel-efficient modifications will likely include low-rolling-resistance tires, enhanced aerodynamics, revised engine calibrations and reduced final drive ratios to deliver even higher mileage and lower emissions. The new Tucson high mileage edition will be identified with unique "Blue" badging.

FUEL ECONOMY INNOVATIONS
To help Tucson drivers get the most out of their vehicles, Hyundai added a standard trip computer and economy indicator. The trip computer provides distance to empty, average fuel consumption, average vehicle speed, elapsed time and instant fuel economy. The "Eco Indicator" on automatic transmission models nestled between the speedometer and tachometer displays a green LED light in accordance with fuel-efficient driving behavior. Fuel savings in the range of 15 to 17 percent are attainable with the automatic Eco Indicator. Manual transmission models have a shift indicator to inform drivers of the optimal time to upshift and downshift. Fuel savings in the range 7 to 9 percent are attainable with the manual Eco Gear Shift Indicator.
Further gains in fuel efficiency have been realized by the Motor-Driven Power Steering system which delivers excellent responsiveness and accurate handling.

SIX-SPEED AUTOMATIC AND MANUAL TRANSMISSIONS
Hyundai's commitment to making the Tucson extremely fuel efficient continues with a six-speed automatic transmission with SHIFTRONIC® manual control or a standard six-speed manual transaxle.
Hyundai's all-new six-speed automatic transaxle helps the company meet its goals of improving fuel efficiency and reducing emissions. Shifts are silky-smooth with an option of manual control through the SHIFTRONIC feature. Designed for transverse engine applications in passenger cars and SUVs, the new compact transmission puts Hyundai into an elite class of auto manufacturers who have designed their own proprietary six-speed automatic transmissions. The strength of the design is its unique layout which makes it smaller, more compact and lighter than any other six-speed on the market today.
For the customer, the new six-speed delivers a performance edge. In this application (FWD/A/T), it helps bring a 24 percent gain in highway fuel economy (31 mpg versus 25 mpg in the '09).
There is no dipstick in the gearbox because it is filled with automatic transmission fluid that is good for the life of the vehicle under normal usage conditions, thereby reducing maintenance costs.
Developed over a four-year period, this new six-speed automatic is 26.4 pounds lighter than Hyundai's five-speed. It also is 1.6 inches shorter and considerably simpler having 62 fewer parts, which is a key to increased durability, lighter weight and lower cost.
When it comes to transmissions, more gears are definitely better. The addition of a sixth gear enables closer spacing between gear ratios providing a better balance of performance and fuel economy while the wide overall gear ratio helps deliver strong acceleration.
The gearbox has three planetary gearsets and a unique flat torque converter which shortens the unit's overall length by 0.47 inches. Four pinion differentials improve durability and further minimize size.
Another example of engineering ingenuity is found in the design of the hydraulic pressure control unit. Because there are always slight manufacturing deviations from one solenoid valve to the next which cause fluctuation in the hydraulic pressure and affect shift precision and quality, the transaxle features cleverly integrated adjustment screws in the valves which enable each of the eight valves to be calibrated at the factory. This feature ensures stable hydraulic pressure at any shift point which facilitates a high degree of precision and control needed to deliver fast, smooth and precise shifts throughout the rpm range.

CAPABLE FOR OUT-OF-TOWN TRAVEL
To make the Tucson even more versatile, Hyundai engineers added an advanced electronic AWD system designed by JTEKT. The AWD system will automatically activate under any driving condition when needed, distributing the power equally and optimizing driving performance. Under normal driving, the system only distributes power to the front wheels thereby reducing fuel consumption. The system includes a driver-selectable AWD lock allowing for a 50/50 torque split between the front and rear wheels for off-road and very slippery conditions.
For even more driver control, the 2010 Tucson features Hyundai's first Hillstart Assist Control (HAC) and Downhill Brake Control (DBC). HAC is designed to minimize rolling backwards on steep ascents. By selecting the DBC switch, the Hydro-Electronic Control unit manages the wheel speed sensors, steering angle sensor and acceleration sensor to maintain control and speed on steep declines without having to use the brake. Neither of these controls are available on CR-V, Escape or Rogue and are typically found on luxury SUVs with much higher price tags.

Thoughtful Interior Design
Inside, the five-seat Tucson offers a commanding view of the road and evokes an adventurous ambience that is also laid-back and relaxing. The needs of the driver are fully accommodated, with the interior blending aspects of the outdoors and an urban lifestyle. For example, Hyundai's first panoramic sunroof brings the outside "inside" for all passengers.
An X-shaped visual theme is repeated across numerous areas of the cabin while metal paint accents provide flashes of visual brilliance.
Shapely seats feature center panels trimmed in breathable fabric with attractive and functional cushion side bolsters, plus additional lateral support for occupants' shoulders. On the insert of the cloth seats, there is a hexagonal pattern stitched into the fabric matching the new front grille design.
The long wheelbase and generous width of the Tucson, combined with Hyundai's expertise in interior packaging, have produced an interior that delivers class-leading rear legroom and improved headroom. These improvements were accomplished while lowering the overall height of the vehicle. The Tucson now has more passenger volume than Rogue and Escape at 101.9 cubic feet. Tucson's cargo capacity is 13 percent greater than its predecessor. In fact, Tucson has more interior volume than Acura RDX, and more cargo volume than Infiniti FX. The spacious cabin on Tucson Limited is further enhanced for all passengers by Hyundai's first available panoramic sunroof with UV blocking. The front panel of the sunroof can either tilt open or open completely by sliding up and over the rear panel. An anti-pinch system guards against injuries. Finally, with the extra wheelbase length, Hyundai engineers were able to expand front seat tracks allowing taller drivers a comfortable seating position.
The high-tech cockpit comes standard with Hyundai's signature blue lighting, power windows, power door locks, fold-away mirrors and remote keyless entry with alarm and panic button. Bluetooth hands-free phone system with voice recognition and steering wheel audio and cruise controls are also available. Another premium feature in the Tucson Limited is a CleanAir Ionizer that automatically cleans the air when the heater or air conditioner is running.
Other available features include leather seating surfaces, heated front seats, power driver seat with lumbar support, automatic headlights, side repeater exterior mirrors, front wiper de-icer and dual front automatic temperature control.
Audiophiles will love Tucson's 160-watt AM/FM/XM/CD/MP3 audio system with six speakers. This system includes XM Satellite Radio® and iPod®/USB auxiliary inputs as standard equipment. When an iPod or flash drive is connected through the USB port, which is located in the storage tray, not only does it play music through the vehicle's six-speaker audio system, but it also charges the iPod and allows the driver to access tracks with the steering wheel audio controls. This system also allows both driver and passengers to easily view song/artist/title information and control the music from the audio head unit rather than only the iPod itself.
The 2010 Tucson can be further upgraded with an optional navigation system with rearview camera. Shifting into reverse automatically turns on the rear-view camera that provides a wide-angle view reducing the risk of accidents. This navigation system also provides Bluetooth streaming audio capability. This easy-to-use unit can be controlled via a 6.5-inch LCD touch-screen or voice-activation by headliner-mounted microphone. The voice recognition allows the user to control the navigation system, audio system and phone commands. The system comes matched with the 360-watt premium audio system that includes an external amplifier and subwoofer. It plays compact discs, accesses digital music files employing Bluetooth streaming audio or allows driver and passenger to access their personal listening devices through the iPod/USB/auxiliary inputs. Bluetooth audio wirelessly streams music from a phone to the audio system. And with a Bluetooth-enabled phone, a local restaurant can be called for reservations before plotting the route. The XM Satellite Radio interface is also integrated into the navigation unit and features channel logos and real-time NavTraffic with detour function. XM Satellite Radio and NavTraffic service are complimentary for the first 90 days.

STORAGE GALORE
The 2010 Tucson features a total of 19 different storage places and drink holders:
Console storage tray
Glove box
Overhead sunglass storage
Armrest storage compartment
Two front seat drink holders
Two rear center armrest drink holders
Four bottle holders – one in each door
Four map pockets – one in each door
Two seatback pockets
Cargo area storage tray

Not only does the Tucson feature all these storage options, but Hyundai engineers have improved them over the previous model. The center console has been enlarged to 370 cubic inches (an increase of 205 cubic inches). The height of the rear cargo screen has been raised by almost three inches for more storage, plus a tray has been added to keep things organized. The cargo area also features a dual-sided cargo floor with tough plastic on one side for messy items and carpet on the other. The bottle holders even have grips to make sure the bottle doesn't tip over.

Advanced Standard Safety Technologies: PART OF HYUNDAi'S ASSURANCE COMMITMENT

The 2005 Tucson was the first Hyundai model to feature standard ESC (Electronic Stability Control) upon its launch in fall 2004. It was also the first vehicle under $20,000 with standard ESC and six airbags. The Tucson started Hyundai's approach to combining state-of-the-art safety and affordability and this approach lives on in the 2010 Tucson. The Tucson is loaded with life-saving standard safety features including ESC with traction control, six airbags and active front head restraints. Its braking system features four-wheel disc brakes controlled by an advanced four-channel ABS with Brake Assist, providing maximum braking force when a panic stop is detected, and Electronic Brake-force Distribution (EBD) to optimize brake performance with uneven weight distribution.

ESC compares the driver's intended course with the vehicle's actual response. If needed, ESC then brakes individual front or rear wheels and/or reduces engine power to help correct understeer or oversteer. National Highway Traffic Safety Administration (NHTSA) studies show SUVs equipped with ESC experience 67 percent fewer single-vehicle crashes, and 63 percent fewer single-vehicle fatalities. In addition, a study by the Insurance Institute for Highway Safety (IIHS) found that ESC reduces the risk of all fatal collisions by 52 percent and the risk of fatal single-vehicle rollovers of SUVs by 80 percent.

The Tucson is engineered to provide its passengers with multiple defensive safety layers. The steel unibody has integrated crumple zones and a high-tensile front sub-frame designed to work together to reduce the forces that typically reach the passenger compartment. Particular attention has been paid to increasing the stiffness of the front side members which have been enlarged and straightened. Also, the center pillars serve as the anchors of a new ring structure which improves overall side structure stiffness while also creating more room for the door armrest and seat. All four doors also have internal guard beams to protect passengers in a side-impact collision.

The entire body shell has been made stiffer and lighter thanks to its extensive use of ultra-high tensile strength steel, which comprises 68.9 percent of the shell compared to its predecessor's 57.3 percent. Also, the use of Tailor Welded Blanks (TWB) has been expanded on key structural members. TWB assemblies combine steels of different thickness and grades using a sophisticated laser welding and stamping process to achieve an optimal stiffness-to-weight ratio. TWBs reduce body weight while enhancing crash energy management. These safety systems are expected to earn the 2010 Tucson NHTSA's top five-star crash test rating for front and side impacts.
Tucson's standard front-seat active head restraints help prevent whiplash by automatically reducing the space between a front occupant's head and the head restraint during certain rear collisions and are highly recommended by safety organizations such as the IIHS.

The Tucson's passenger restraint systems also help minimize injury. Three-point belts are provided at all five seating positions, and the front seatbelts have pretensioners and load limiters. There are two outboard rear Lower Anchors and Tethers for Children (LATCH) child-seat anchors.

Elongated flush-mounted headlamps not only add a strong sense of style but also feature projector beam lenses for improved night-time driving safety. Side mirror housings have been modified to reduce wind noise and also feature an integrated repeater lamp for improved visibility on the Limited trim.

A total of six airbags are positioned in the Tucson's interior. Dual advanced frontal airbags are complemented by front seat-mounted side-impact airbags and roof-mounted side-curtain airbags with new rollover sensors that cover both the front and rear seat rows. The combination of side and curtain airbags, which help protect the head and body during side impacts, can reduce fatalities by more than 45 percent, according to the IIHS.
Tucson also features a standard Tire Pressure Monitoring System (TPMS) which alerts drivers if one or more tires are under inflated.

WARRANTY
The 2010 Hyundai Tucson is protected by the Hyundai Advantage, America's Best Warranty. Coverage includes five-year/60,000-mile bumper-to-bumper protection,
10-year/100,000-mile limited powertrain warranty, and seven-year/unlimited mileage anti-perforation coverage. In addition, Tucson buyers receive 24-hour roadside assistance coverage at no extra charge for five years (no mileage limit) and that service includes emergency towing, lockout service and limited coverage for trip-interruption expenses. There is no deductible on any of these coverages.

QUIET CABIN
Extensive work was done to isolate sounds and eliminate vibrations. The all-new 2010 Tucson is discernibly quieter both at highway speeds and at idle than its predecessor. Booming noise is reduced thanks to a sub-frame dynamic damper while the rear luggage area gets extra soundproofing to isolate exhaust sounds. Road noise has been minimized by improving stiffness in the front and rear struts, rear trailing arm and the spring sheet.

Engineering & Manufacturing
The Tucson is built in the Ulsan plant in South Korea. Known by the project name LM, the Tucson took 36 months and $225 million to develop. Tucson has been one of the most popular Hyundai models with more than one million units sold worldwide since its launch in 2004.

COLORS
The 2010 Tucson is offered in nine colors with an optimum mix between lighter and darker colors to satisfy regional preferences. The colors are Cotton White, Diamond Silver, Graphite Gray, Ash Black, Garnet Red, Iris Blue, Aurora Blue, Chai Bronze and Kiwi Green. Three interior colors Black, Taupe and Saddle will be available.

AVAILABILITY
Mass production of the Tucson started at the Ulsan factory for the United States market in October 2009 with sales starting in December 2009.

SMALL CUV Landscape
Thanks to their all-around functionality and value, small crossover utility vehicle (CUV) sales are projected to grow at a rate far above the industry average through 2014. These CUVs are among the fastest growing segments on the market today due to their convenient size, car-like refinement and good fuel economy relative to larger SUVs. Fueling this growth are seven all-new model introductions through 2014. The Tucson with a host of unique and attractive features positions Hyundai front and center in this booming segment.

HYUNDAI MOTOR AMERICA
Hyundai Motor America, headquartered in Fountain Valley, Calif., is a subsidiary of Hyundai Motor Co. of Korea. Hyundai vehicles are distributed throughout the United States by Hyundai Motor America and are sold and serviced through more than 790 dealerships nationwide.
S
S
S
S