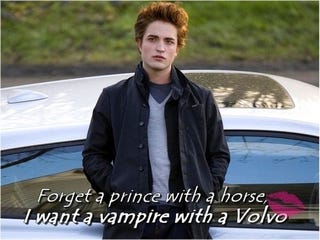 If you have a wife/daughter/girlfriend/sister, you're likely incredibly annoyed by their obsession with the Twilight Saga movies and their lame sparkle vampires. Now, Volvo wants to use this schlocky tween vamp romance to sell you a car. Gag.
At some point during all the ridiculousness and sparkling, there's some brief message about protecting the people you love. Volvo's seized on this, pushing its products heavily in the movies and now running an ad campaign to tie in with the sequel, New Moon, which opens next week.
Ignoring for a second the bizarre Christian thing that's going to insure that a generation of girls grow up with an incredibly fucked up idea of sex, the target demographic for this teen marketing campaign movie is 12-year-old girls. Is that really the market for Volvo XC60s? We mean, they can't even drive yet!
Then there's the direct parallel Volvo's drawing between the website it's using to promote its product placement and that creepy Christian thing the movies have going on. The website's name? What Drives Edward? Would Jesus be that creepy?