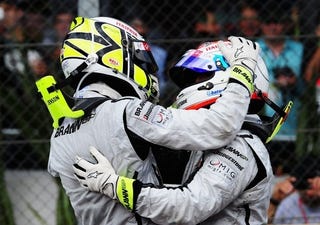 Have you all watched your tivoed instances of the Brazilian Grand Prix? Excellent! Then you know full well that Formula One's new champion is here and his name is…
Jenson Button, the whiz kid of late 90s gokarting, who found himself in a Formula One car at the precocious age of 20.
He would probably never have guessed the nine bleak years that would follow, 155 races with a single lucky win in Hungary, punctuated by mediocre or downright horrible racing cars.
His ascendancy to the highest rung of motor racing also happened to coincide with the rise of a particular team led by his current boss Ross Brawn: Scuderia Ferrari.
Awakening from a slumber of almost twenty years, Ferrari came to dominate Formula One like no one had before.
But this scruffy British kid has now been paired with a sublime car and a boss whose giant brain is certainly helpful for building a winning team. With a manic, courageous drive which took him from 14th place to 5th, Jenson Button claimed the 2009 Formula One world championship in high style at the Brazilian Grand Prix.
A beautiful way to end a season tarred and slimed by mischief and mayhem, a season which saw a shakeup of the established order like few seasons ever have, a season which spelled the righteous end of Ron Dennis and Flavio Briatore.