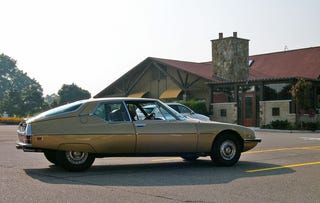 Go to Detroit and you will expect to see muscle cars, American classics, hot rods, the odd Lamborghini, but you will not expect to see Robert Opron's rolling spaceship from 1970.
The Citroën SM stands on the precipice of Vorsprung, it is from an era when the casual observer could believe in an eternity of progress. Men had repeatedly walked on the Moon, rock music was reaching for lofty heights and there was a passenger airplane, manufactured by an unlikely consortium of state-owned British and French firms, which could travel at twice the speed of sound.
We don't have such planes now. The Concorde was mankind's only functioning time machine available for non-military use: you could have lunch in London, digest it aboard and continue your day—with breakfast in New York City.
The Citroën SM was the Concorde's contemporary, borne of a similar transnational corporate background, but it was the Italians instead of the British who partnered the French this time. The M in SM stands for Maserati, owned by Citroën at the time and responsible for the SM's engine, but I needn't tell you all this: google "Citroën SM" and you will find right on the first page a feature article published on this very website which will tell you all about it.