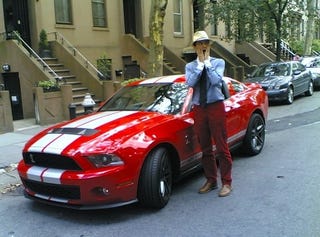 A brief exposure to the current gamut of muscle cars has left our Euro car boy with a new appreciation of European interiors and straight line Americana.
This is the very last car I rode in on the American continent. Wert showed up with it just as I was heading out of Jalopnik publisher Gawker Media's Soho offices to subway to JFK. Contrary to my preconceptions, it is a very nice car.
Much more compact than either the Challenger or the Camaro, the big Mustang is a surprisingly nice place to be in. The plastics are uprange Opel, meaning nowhere near Alfa Romeo Euro-poshness but perfectly okay.
While the doorframe is certainly on the high side, you can stick your elbow out without having to worry about the sudden onset of Saturday night palsy, which is very much not the case in neither the Challenger nor the Camaro. And what is a muscle car without an elbow out the window, after all?
It was a fun 20 MPH ride in bumper to bumper traffic, over the Manhattan Bridge and into Brooklyn. Ray will have a full road test up in the coming days. And I certainly hope he will mention the shift knob, which looks (cue Nascar-like Southern drawl) "totally awesome."
Photo Credit: Ray Wert
Dodge Challenger R/T
The Challenger faced impossible odds: it was our chariot of choice in heavy traffic on the Long Island Expressway on our way to see a Lamborghini Miura. While no earthly car can approach the magic of the Miura, the Challenger failed in every way. The inside is decked out in plastics I would not store leftovers meant for dogs in. The shifter is a wobblefest, the A/C is only good for causing sudden onset hypothermia and cocking an elbow out the window is not recommended if you're worried in the slightest about the health of your radial nerve.