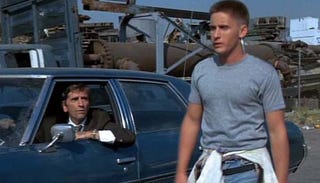 What's The Greatest Car Movie Of All Time? I say it's Alex Cox's Repo Man, and for 25 years I've wondered: How and why did Cox choose the cars used in the film?
Before we get to the interview, let's jump over to Mr. Cox's site and read what he has to say about the central theme of Repo Man:
Nuclear War. Of course. What else could it be about? And the demented society that contemplated the possibility thereof. Repoing people's cars and hating alien ideologies were only the tip of the iceberg. The iceberg itself was the maniac culture which had elected so-called "leaders" named Reagan and Thatcher, who were prepared to sacrifice everything — all life on earth — to a gamble based on the longevity of the Soviet military, and the whims of their corporate masters. J. Frank Parnell - the fictitious inventor of the Neutron Bomb - was the central character for me.
Yes, the Greatest Car Movie Of All Time wasn't even about cars! As a nuclear-war-obsessed 18-year-old gearhead equipped with a fleet of wretched hoopties rattling with Suicidal Tendencies and Stooges cassettes Repo Man was a Tzar Bomba dropped right into my skull. Lately, what with all the rumblings about Cox's recently-finished non-sequel, Repo Chick, I was inspired to email Mr. Cox and ask him the Repo Man car questions I've had for him all along. Even though he's swamped with Repo Chick-related work these days, he got back to me right away and was kind enough to provide detailed answers to my ranting, obsessive queries. Here we go: