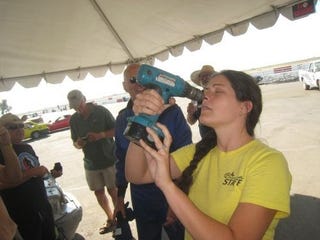 The LeMons Supreme Court, in its ongoing attempt to keep the gears of justice oiled with the blood of racing miscreants, created some brutally effective new penalties for the Buttonwillow race last weekend.
We didn't have the services of LeMons Supreme Court Justice Damon Lavrinc this time around (he was off ogling Ferraris in Pebble Beach or some such nonsense), but our latest member of the Court turned out to have a mean streak that made even super-sadistic Damon seem like Mr. Rogers; in other words, exactly what we needed! Meet LeMons veteran, Reliant Scimitar driver, and author Jason Torchinsky, flanked here by LeMons Chief Justices Martin and Lieberman.

Judge Torchinsky so admired the stencil we use on BMW E30s that he made one just for Miatas! We figure Miata drivers need encouragement to switch over to a real sports car, as in the kind made in Abingdon-on-Thames.