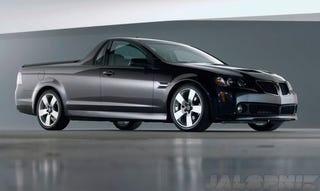 Holden's readying a limited edition version of its Commodore SSV with Pontiac's twin-nostril grille and hood scoops. According to Australian sources, the special edition will be called the Commodore G8 SSV and be available as a sedan, ute and wagon!
Apparently, the move to stop the export program in the wake of GM's bankruptcy and the killing off of the Pontiac brand has left a warehouse of parts once destined for cars to be exported to the US. Holden's marketing department — sensing an opportunity — has decided to use the stockpile on VE Commodores, which will be sold as a premium priced, limited edition Holden. Brilliant!
Even better news is the special edition will apparently also be available as a ute and wagon! GM had announced plans to bring over a G8 El Camino Sport Truck ST to the United States but then nixing those plans, along with even the idea of a wagon version of the Zeta-platformed RWD G8.