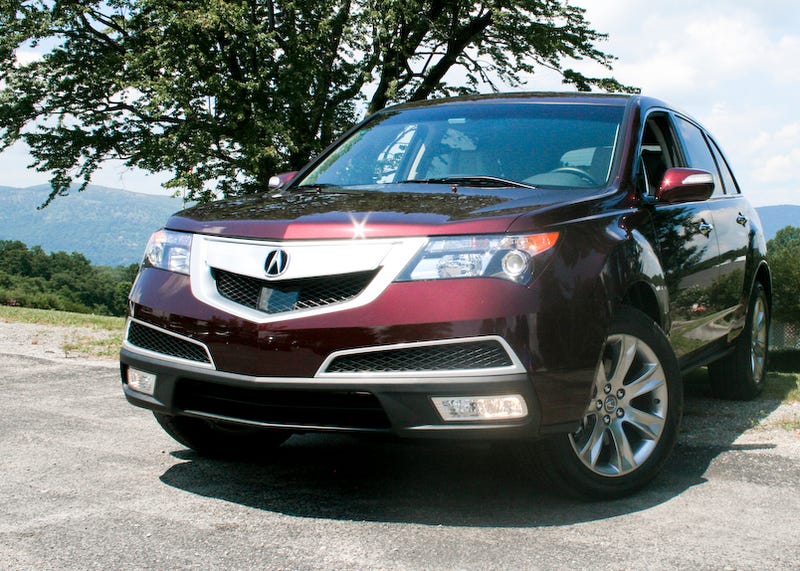 The 2010 Acura MDX has been loaded down with technology like no SUV before. That's a good thing, as that tech solves so many of the problems inherent to the SUV form factor.
The 2010 MDX retains the 2008 model's torque-vectoring SH-AWD, adding re-tuned Active Dampers a new 6-speed, paddle-equipped automatic transmission, larger 13-inch front, 13.2-inch rear brake discs, optional 19-inch wheels and retunes the 300 HP, 270 Lb-Ft 3.7-liter V6 with a more flexible power band.

Put together, it makes the MDX both more capable and more refined. Engaging "Comfort" mode on the adaptive dampers now better isolates passengers from bumps, further differentiating it from "Sport" mode, which is still taut and controlled, delivering a near absence of body roll.
You can now click the paddles twice in rapid succession to shift down two gears at once, useful for overtaking and cornering as that sixth gear is now a very tall overdrive, spec'd to boost highway fuel economy and refinement. However, one needn't worry — the more flexible engine means sixth doesn't lack the ability to accelerate.
Engage "Sport" mode, knock it down from fourth to second, get on the accelerator and throw the MDX into a corner fast and the result is something akin to a dialed-back BMW X6. Like BMW's strangely-shaped crossover-car-coupe, there's virtually no roll or steering feel, but there's not really any understeer either. The MDX just takes corners at any speed you require of it. Thank the torque vectoring rear differential for that, although, unlike the X6, the front wheels can't push power side-to-side to really capitalize on available traction. Still, the ability to send power to the outside rear wheel in a corner greatly boosts confidence, speed and outright cornering ability. I was disappointed I couldn't convince the MDX to hang its rear out like the X6, but I suppose the desire to do that in a 7-passenger SUV is strongly indicative of its ability to push the boundaries of physics.