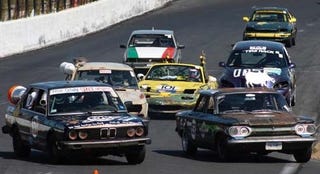 The 16th race in LeMons history took place at Stafford Motor Speedway last weekend, and we saw Hondas, Alfa Romeos, and Volvos absolutely dominate this time around.
In fact, the only Top Ten cars not made by Honda, Alfa Romeo, or Volvo were a Nissan 240SX and a Lincoln Continental Mark VIII (in 6th and 10th place, respectively). We saw some great themes and costumes at this race, too, as you can tell by looking at the above photo of the Victors Of War team, a Golf-racing bunch of New Jersey mooks. We also saw an extremely tough Index Of Effluency field, including a Saab 99, a Datsun 510, a '63 Corvair, a Peugeot 504, and a Chevy Citation X-11.

Chief Perpetrator Lamm, his flinty cold heart apparently slightly softer than usual for some reason, allowed the Citation X-11 team to substitute their Corolla- which we last saw upside-down at LeMons South- for the Chevy, which blew its engine during the transponder testing laps (it actually gets worse than that; we've seen LeMons racers blow up getting off the trailer in the past). After that, the Endurance Karting Miata team- you may remember them as the winners of the New England '08 race- was permitted to substitute another so-called $500 Miata after their engine started spitting valves out the tailpipe.

Here they are, every single car that managed to limp through at least a single lap at the 24 Hours Of LeMons New England 2009. Thanks to Nick Pon, Blake Rong, Jim Brennan, Terry Shea, WTIC Fox 61, Andy Wallwhore, Ron Vickers, and The Knights Who Say Ni-ssan for the photos!


#1: Kielbasa Kids, Honda Civic
Overall Winner
Best Lap: 31.011


#2: Scuderia Limoni, Alfa Romeo Milano
Winner, Class 2
Best Lap: 33.629


#3: Scuderia Testa di Spillo, Alfa Romeo Milano
Winner, Arbitrary Recipient Of A Bag Of Milano Cookies
Best Lap: 32.925


#4: Team Pro-Crash-Duh-Nation, Alfa Romeo Milano
Best Lap: 31.699


#5: Vermont Cow Tippers, Volvo 245
Best Lap: 33.165


#6: The Crazy Swiss & Crazy Chick, Nissan 240SX
Winner, Class 1
Best Lap: 34.307


#7: Keystone Kops, Volvo 244
Best Lap: 33.094


#8: Rhinoceros Racing Team, Honda Civic
Best Lap: 32.658


#9: Team Submarine, Honda Civic
Best Lap: 32.643


#10: Police Brutality, Lincoln Mark VIII
Winner, Least Horrible Yank Tank
Best Lap: 33.854


#11: Team Teflon, Saturn SL2
Best Lap: 33.212


#12: Near-Orbital Space Monkeys, BMW 528e
Best Lap: 33.001


#13: Vlad The Impala, Chevrolet Impala
Best Lap: 32.868


#14: The Dirty E-Thirties, BMW E30
Best Lap: 34.262


#15: Nutjob Racing, Toyota MR2
Best Lap: 32.899


#16: Duct Tape Motorsports, BMW E30
Best Lap: 31.505


#17: Hertzwen I.P. Racing, Volkswagen Jetta
Best Lap: 34.441


#18: Jackal And Hyde, Volvo 245
Best Lap: 33.702


#19: Boxy But Good, Volvo 740 Turbo
Best Lap: 33.992


#20: Buffalo Knuckles, Toyota Supra
Best Lap: 31.724


#21: Camry Full O'Babes, Toyota Camry
Best Lap: 34.736


#22: Team Elemonators, Toyota Camry
Best Lap: 33.951


#23: Team UDMan/Trailing Throttle Oversteer, Chevrolet Corvair
Winner, Index Of Effluency + Class 3
Best Lap: 36.602


#24: Adopted By Jets, Saab 99
Winner, Grassroots Motorsports Most From The Least Award
Best Lap: 32.382


#25: The Ducks Of Hazzard, BMW 325iS
Best Lap: 32.225


#26: Team WWF, Datsun 510
Best Lap: 31.747


#27: Victors Of War, Volkswagen Golf
Best Lap: 33.175


#28: Call On Your Mom, Mazda RX-7
Best Lap: 31.348


#29: The Knights Who Say Ni-ssan
Best Lap: 33.730


#30: NFW, Honda Accord
Best Lap: 33.582


#31: Got Wood Racing, Nissan Sentra
Best Lap: 32.531


#32: No Budget Racing, Pontiac Firebird
Best Lap: 33.279


#33: Chard Beef Racing, Buick Regal
Winner, Organizer's Choice Award
Best Lap: 32.343


#34: Cap'n Slow Racing, BMW 535i
Best Lap: 33.721


#35: Schumacher Taxi/Holy Crapitation, Chevrolet Citation X-11/Toyota Corolla FX16 (First car blew up, substitution allowed)
Best Lap: 32.822


#36: Dentonators, Volkswagen Golf
Winner, I Got Screwed Award + Whiny-Ass Crybaby Award (to team captain Yannis)
Best Lap: 31.637


#37: Endurance Karting/Just Having Fun, Mazda Miata (First car blew up, substitution allowed)
Best Lap: 31.416


#38: Monger Garage, Subaru Impreza Wagon
Best Lap: 33.183


#39: Team Farfumwinnin, Volkswagen Fox
Best Lap: 32.484


#40: PT Losers, PT Cruiser
Winner, Terrible Driving Even By Boston Standards Award
Best Lap: 33.504


#41: Sikorsky Hawks, Ford Mustang
Best Lap: 33.887


#42: Jake & Elwood Racing, Ford Escort
Best Lap: 35.605


#43: The E-Lemon-Ators, Mercury Cougar
Best Lap: 34.160


#44: Rust In The Wind, Nissan 300ZX
Winner, Dangerous Homemade Technology Award (for leaf-blower supercharger)
Best Lap: 34.659


#45: Pimpala, Chevrolet Impala
Best Lap: 33.278


#46: Crumpled Rusted And Pathetic, Plymouth Laser
Best Lap: 34.649


#47: The Pride Of Stig (The P.O.S.), Nissan Sentra Wagon
Best Lap: 35.322


#48: We Buy Subprime, Subaru Outback
Best Lap: 32.586


#49: Cornell Ass Wheels, Saab 900
Best Lap: 34.794


#50: The B-Team, Ford Escort
Best Lap: 34.063


#51: Go Green Racing, Honda CRX
Winner, Most Heroic Fix Award
Best Lap: 33.904


#52: Team Panzers, Audi 4000 Quattro
Best Lap: 34.244


#53: Elmo's Revenge, Saturn SL2
Best Lap: 34.859


#54: Safari Taxi Co., Peugeot 504
Best Lap: 36.591


#55: Team Recession Racing, Nissan 300ZX
Best Lap: 34.574